My experience & review of Using Atlas VPN
Page Visited: 823
Read Time:
4 Minute, 14 Second
You might have heard about VPNs (Virtual private networks) quite often these days. You might wonder what VPN (Virtual Private Server) is. why should we use VPN? In this article, I will share my experience and review of using Atlas VPN for the past 5 months. I will also tell you why you should opt for VPN.
What is Atlas VPN?
It was founded in 2019, and in 2021 it became a part of Nord Security the company that provides Nord VPN. To date, Atlas VPN has 6 million users worldwide. Atlas VPN's main focus is to make the internet safe for everyone. They focus on making digital privacy and security accessible to everyone. You do not need to be tech-savvy to use their service. Atlas VPN uses strong AES-256 encryption. They have a free option also with limited features, you can use these 3 locations Netherlands – Amsterdam, USA – Los Angeles, and USA – New York. 5GB of monthly data on one account.
The premium has 45+ Locations and 750+ Servers, Unlimited data, high performance, and 24×7 support.

My Experience and review with Atlas VPN
I got a chance to use Atlas VPN through my website thereviewstories.com because of the good reach of my website, Atlas VPN reached out to me. They gave me 6 months of premium service to use, which allowed me to use their service and then write a review about Atlas VPN. So for the past 5 months, I have been using Atlas VPN. Atlas VPN is on my desktop 24*7. I also use Atlas VPN on my android phone which is also on 24*7. It supports multiple devices.
I will share my speed test screenshot, from my PC and android. There is a difference in download & upload speed, but you don't notice it when surfing the internet. Watching 4k videos on youtube has no lag. I use a 3G connection on my phone, as I don't require much data. Just payment which works fine in 3G.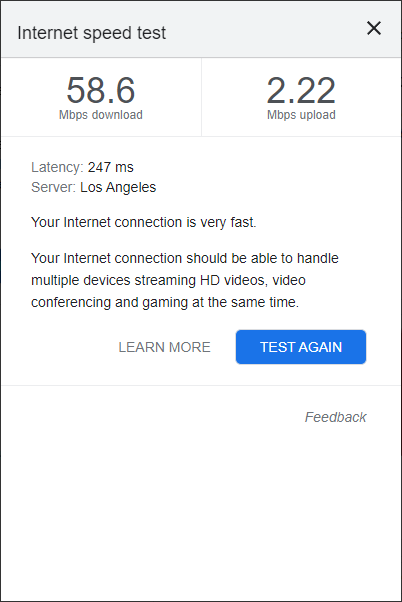 Zee5 plan doesn't work on different countries, it popups a message saying you have to buy the current country plan to watch premium content. The same goes for Hotstar also. You have to buy a country subscription to watch any of the shows. Amazon Prime works with the same subscription globally. I don't have a Netflix subscription. So I was able to watch amazon prime content which was restricted in my country.
You cannot use UPI apps when using VPN, because UPI is only available in specific countries, like UAE, Singapore, Saudi, France, Netherlands, Belgium and more. But I was not able to log in to my UPI when I was connected to Netherlands, France or Belgium, it gave me an error saying incorrect pin.
Other Features
The main reason I am using VPN is to hide my personal details and increase my digital security. In this digital age, we need to protect our privacy, we all know our data is collected and tracked. Atlas VPN keeps my identity safe and anonymous, which is very important.
You also have a safe browsing option which when enabled blocks dangerous websites, stops third-party cookies from tracking your browsing habits, also prevents behavioural advertisement.
This VPN also helps you scan your email address and tells you whether your data is breached or your personal data is compromised. You can add your email and scan it, if you see a breach of your email on any specific website, you can change your password. This is a very useful tool for me.
With one account you can use Atlas VPN on multiple devices.
Devices supported
Server Locations
Why You Should Use a VPN
A VPN, or Virtual Private Network, can provide a lot of extra benefits to anyone who is using the internet. It keeps your data secure and anonymous by routing your internet traffic through a remote server, making it impossible for malicious actors to identify and trace you and your activity online. Many VPNs also have additional features like malware blocking or ad blocking that help you browse the web safely and securely. Additionally, VPNs allow users to bypass any geo-restrictions their governments might have imposed on certain websites – making sure millions of people from all around the world can access the content of their choice. In short, a VPN is an essential tool for anyone serious about protecting their online privacy.
In this digital age, VPN is an investment, which will protect your identity from trackers. We all have seen behavioural advertisements, whenever your talk or search for a specific product or service, you start getting related ads on your email and social media. This can be prevented. Your overall digital identity is protected.
I have shared my experience and review of Atlas VPN with you, now you can choose to buy Atlas VPN or any other VPN of your choice, but you should use a VPN.