How to Make Your Bedroom Cosy and Inviting
Page Visited: 1866
Read Time:
5 Minute, 37 Second
Many people in Australia don't pay enough attention to how cozy and inviting their bedrooms are. That is because not many people are aware that your bedroom needs to be a place that shows off your personality and where you can relax and unwind after a long stressful day. No matter what style you like you can make your bedroom a cozy and inviting space. Here are some tips on how you can achieve that look.
Create Your Own Design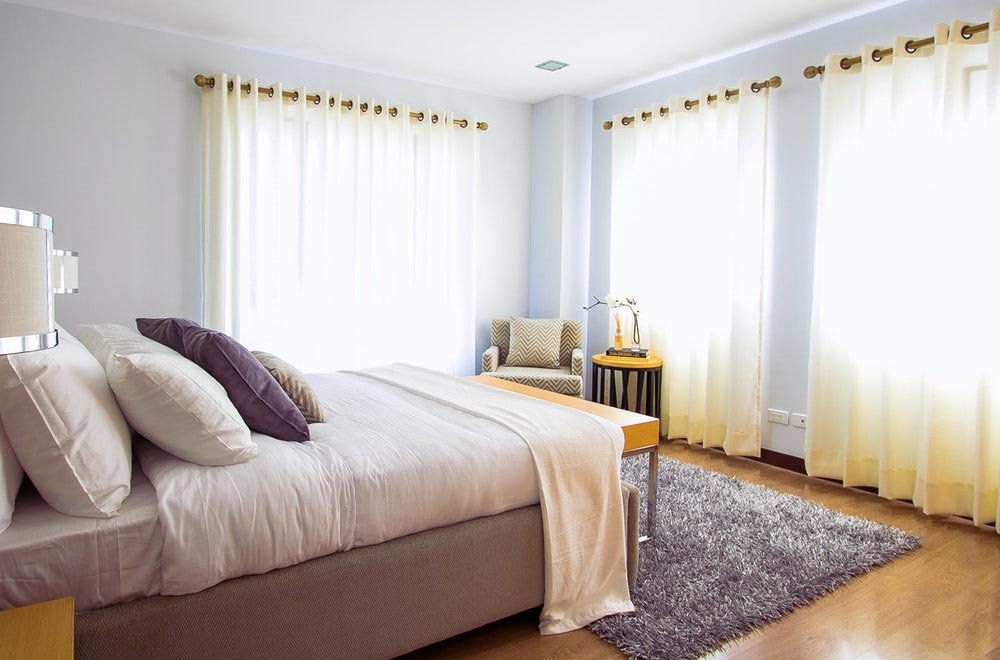 The first thing that you will need to do is to create your own design. It is important that you take your time in order to create a bedroom that will be your sanctuary. Start with a vague idea and then work out the specifics as you go. Write down all the ideas that come to mind such as natural, light, airy or anything that you would want in a room. Once you have a set idea in your mind you can start looking at some inspirations.
There are so many places you can seek inspiration from like Pinterest or home interior stores or by simply serving up the style you are wanting to recreate. Create your own colour scheme and then think about what furniture and fabrics will go best with the colour scheme. Once you have a whole idea about what you want your room to look like it is time to get down to business. There isn't a wrong way to decorate your bedroom, be creative and have fun with it.
Think About the Temperature
Not many people pay attention to the temperature of their bedrooms. But that is one of the most important parts of creating a cozy room because the temperature will make a significant difference to the comfort level of the whole room. Therefore, even before you start redecorating make sure that you have the right temperature. No matter how good your mattress is, if you are constantly too warm or too cold you won't be able to fall asleep. If you notice that it is too warm make sure that you have an air conditioner but don't make it too cold because nobody likes to sleep in a freezing cold room.
Don't Be Afraid to Have Fun with Colours
Keep in mind that your bedroom is a personal space that not a lot of people will be able to see. Therefore choose colours that work for you and make you feel calm and cozy. Because you want your room to be a relaxing and cozy space it is better to stray away from intense colours like pink, yellow or red and opt for ones that are more neutral and calming. Colours play a big part in the quality of your sleep, so you have to make sure that you pick the right colour for you.
Mix the Materials
Once you have a set colour scheme that you want to go with it is time to add some texture. There is nothing that will make your room cosier and inviting than matching up different materials. Add linen and pillows that are different materials and a duvet cover and a blanket that are once again different textures. That way you will bring some warmth into a room. You can also do that with the furniture and accessories to give it a more inviting look.
Don't Forget the Flooring
Most people don't really think about their flooring options in their bedrooms and that is where the mistake is made. To have a cozy and inviting bedroom you will need to find the perfect option for where you will be putting your feet first thing when you wake up every morning. By choosing wooden flooring you will tie your whole room together. That is why timber flooring in Sydney is so popular. You will have a top-quality floor that will make your bedroom look more inviting and cozy.
Create the Perfect Cozy Lighting
There is nothing that can compare to having perfect cozy lighting in your bedroom. You will want to have both natural and cozy dimmed lighting. Because not everybody has huge windows or a window that has much natural light coming in the day, but you can make most of what you have. Instead of having those heavy curtains pick ones that can let some light in even when they are closed. That way your room will have an early and calming look to it.
If you are easily bothered by the light you can layer blackout curtains on top of flowy ones so you can change your lighting as your mood changes. But when the night time comes around it is important that you have cozy lighting that you can control. Nobody likes to have a bright white light in their bedroom when they are reading or relaxing. If you don't want or can't install dimmers you can simply hang a couple of strands of fairy lights. That way you will still have a warm calming light that will make your room nice and cozy.
Add Some Plants
There is nothing more calming and cozy than having plants in your bedroom. That is because you are warming up your space while purifying your air. Your room will not only be cozy and inviting but it will make it feel more fresh and relaxing. It can also help with reducing stress and depression.
Don't Forget to Add Your Personal Touch
Once you have completely decorated the room, picked out the perfect flooring and put up your lights it is time to add some personal touches to it. Put something that will make you feel warm inside even if it doesn't go with the room or isn't supposed to be used in a way that you want, no matter what the deal is you must leave a personal touch in order for it to be complete. Anything that will make you happy from putting crystals on your window sills or handing luxurious hotel suites like bathrobes on the doors. No matter what it is, no bedroom is complete without a personal touch.
Stray Away from Technology
The last touch that will make your room the cozy sanctuary is somewhat hard and it is not putting any technology in it. It will not only be aesthetically pleasing to see a room that has no cords or gadgets it will be amazing for your overall health.
Final Words
It is important that you create a space that will be your safe and restful haven. But don't stress yourself out in the process, it is important that you feel comfortable and cozy while relaxing in it. So be creative and have some fun decorating.