Affordable Bathroom Renovations Just For You
Page Visited: 1268
Read Time:
3 Minute, 15 Second
Bathroom renovations can be costly for one and all, and why should it not be? The bathroom is one of the most luxurious and relaxing places of a household, after all. Having said so, one would always want to upgrade their bathroom spaces from time to time. However, keeping in mind that bathroom furnishing can be very expensive, it is time to look at a few budget-friendly options in-store.
Australia has ample options when it comes to the installation of innovative designs and architecture. The specialists in town have vast experience in this field and, thus, are less likely to let you down in terms of unique yet cost-effective designs. It is not necessary to splurge a lot of home décor or renovations and expect the result to be outstanding. Not always will you be impressed with what you have purchased with a lot of money. Thus, a few mindful alterations to your bathroom can help you to enjoy attention towards the bathroom for a long time ahead.
Let us look at a few affordable bathroom renovations that one can make use of while living in any of the cities in Australia.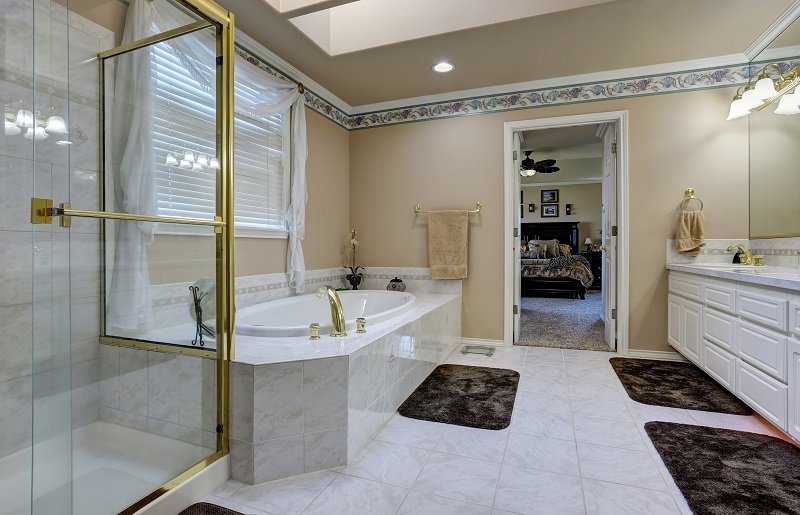 Top Tips and Tricks for Affordable Bathroom Renovations
Use A Monochrome Or Dichromate Shade Inside The Bathroom
Choosing a single colour or a maximum of two colours reduces the sharpness of the space. Mellow and light colours of typically one shade can be relaxing. Otherwise, this particular tip is also on-trend. You will find this particular design in most posh bathrooms of hotels and mansions.
Use Attractive Bathroom Hardware
Stop investing in basic, cheap hardware for your bathroom fittings. This is one area where one should not spend too little as hardware is subject to damage sooner or later. Everyone would like to own their bathroom fittings from trustworthy companies and hope that they last long. Choose attractive colours like metallic grey and rose gold.
Use the Abundance Of Mirror
Apart from good ventilation, one of the elements which increase the brightness of space is a mirror. The mirrors reflect light and make the bathroom looking bigger to spend some time soaking you in the tub. It is an affordable bathroom renovation idea.
Use A Variety Of Plants In The Bathroom
Plants at the corners of a bathroom are capable of enlivening up the atmosphere in some peculiar yet magical way. You can make sure the air is always purified. You can also use fake plants to fill in the gaps in the bathroom space.
Make Use Of Innovative Lighting
The lighting in a bathroom is decided upon depending on a few factors such as light filtering in through the windows, the colour of the walls, and the position of the room. It might so happen that your bathroom may always look like bit dull. Thus, make use of custom-made, innovative lighting available in the market.
Wallpapers And Tiles
If you are so keen to make use of tiles and wallpapers, make sure to do so from quality stores and of better quality. Unless you maintain the best quality tiles in use, It is difficult to maintain them regularly.
Make Use Of Rods Or Hanging Accessories To Put Used Clothes And Bathrobes On Them
While one uses the bathroom, the rods to hang clothes are absolutely necessary here. Make sure they are sturdy and well finished. It can be the best ideal affordable bathroom renovations.
Don't Be Afraid To Use Bright Colors And Flowered Wallpapers
Bright colours and wallpapers with flower patterns can be a statement for any bathroom upliftment. Make sure to research which shade goes well with which one.
Conclusion
With a few home décor and affordable bathroom renovations techniques at the cost of a penny, you can surely turn your bathroom into a versatile decorative utility place.