6 Reasons Why an Effective Logo Is Important For Your Small Business
Page Visited: 1262
Read Time:
3 Minute, 54 Second
People are visual beings – there simply isn't any way around it. According to MIT research, as much as 90% of the information we receive during life is transmitted visually. Also, it takes only 13 milliseconds for visual information for bran to receive and process visual cues.
With all this in mind, it should be clear just how important visual information is for marketing in general. However, before you start performing any advanced marketing strategy, your company will first need a single image that will serve as the first touchpoint between you and all of your future clients.
Let's see why it is important to nail it down.
A logo makes the foundation for visual brand identity
This doesn't have to be the rule, but in most cases, the logo sets up all the pieces for what will become the visual identity of your brand. The colours you use here will most like be recycled on your website and throughout your premises. Also, there is the overall look and energy. Take, for instance, Apple's logo. It's clean-cut, simple, and transmits a very indy feeling. The same sensibilities are emulated on Apple's products, websites, stores, and all other company's assets. But it all starts with a single image of an apple.
Logo instantly captures attention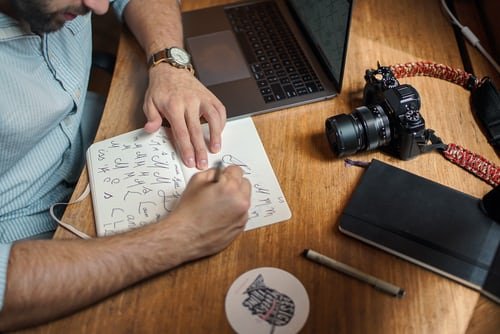 Of course, in order to do that, the logo needs to be simple, striking, and well-designed. But, the ones who manage to meet these high aspirations instantly become part of the pop culture and start the buzz. It is hard to find people who weren't caught off guard by the iconic Rolling Stones logo. Even if the 60s folks weren't necessarily interested in the band's wild off-the-rails energy, they needed to know what hides behind that giant tongue sticking at their faces. The same goes for Nike. The image is so simple and yet so dynamic you have to give the brand a try.
Good logo speaks to the local audience
This works especially well for companies that are aiming for the local audience when visual cues can be effectively used to invoke some specific emotion or reference some local topic or landmark. In this case, though, it's good to keep the things within the family so, you will probably want to use the services of some experienced design studio. Be that as it may, the logo you get in the end will be able to effectively speak to the local audience and get you a lot of attention from the get-go.
Effective logo fosters brand loyalty
Aside from receiving the vast majority of information visually, humans are also a very emotional species. In a recent article, Harvard professor Gerald Zaltman pointed out that 95% of purchases we make are subconscious. Of course, a large portion of these emotions is summoned by the visual identity of the brand and, in turn, its logo. There is something alluring about the McDonalds, Coca Cola and Channel logos that invites customers to come back for more, even though the competitors in their respective industries are more than up to the game.
A logo tells your audience what they can expect
Essentially, your logo should capture the mission statement of your company if a single image. If you manage to do that, your marketing department will have a much easier job explaining to the audience what they are up for. So, let's take a look at the latest iteration of the Windows logo. The streamlined look does an excellent job emulating the visual language of the Windows 10 ecosystem. The colour scheme is what you get as soon as you fire up the PC and the redesigned iconic window references the OS's accessible, user-friendly nature. So, what you see is what you get.
Logo can be used anywhere, anytime
Last but not least, we would like to point out is that, unlike other marketing assets, logos can be used wherever you want – from small branded pens and key chains to massive billboards. This makes them probably the most versatile branding tools in existence because often, you have only a couple of seconds and a limited marketing space to draw the spectators' attention. Failing to do so means only you will have to flush much more money down the various marketing channels.
We hope these few examples gave you some general idea about the importance of a good company logo. People like to say that one picture speaks a thousand words. In the case of brand logos, they might just be right. You only have one opportunity to make a good first impression. Be sure not to waste it.