Here's How Voice Technology Will Change Your Life
Page Visited: 436
Read Time:
5 Minute, 54 Second
Here's our prediction: voice technology will be everywhere in the coming years. Already in 2021, voice applications like Siri and Alexa have capabilities that outdo human assistants. So let's take a closer look at how these novel gadgets will change our future and voice technology benefits.
If you haven't talked to Microsoft's Cortana, Apple's Siri, or Amazon's Alexa, you should give it a try. These handy digital friends are ready to answer pretty much all of your questions. Plus, their skills in organizing your day, scheduling messages, and setting up reminders, often surpass the capabilities of human assistants. The best part: with voice technology, you can navigate these nifty tools completely without eyes and hands.
And the convenience of surfing the web only via speech commands also introduces new opportunities to businesses. Voice technology adoption enables companies to market themselves in a unique way, manage their workforce more efficiently, etc. It has the potential to change everything from how consumers hear about products to how they purchase them. So without further ado, let's take a closer look at how voice-based innovations are bound to change everyone's future. Ready? Here we go.
Voice Technology Will Make Machines Talk
There's a simple reason why people would prefer using their voice instead of typing. They can vocalize their wishes much faster than writing them out. So when the voice gets combined with virtual assistants software, it can help us complete everyday tasks quicker than ever before. 
And the use is not only limited to smartphones. We can soon see all sorts of machines using voice technology, examples ranging from cars to refrigerators to vending machines. Voice assistants will help us find the quickest routes, book accommodation, order at diners, and much more. You might even soon have a chat with your washing machine about the best detergents to use.
Brands Can Learn More About Their Customers
Voice technology benefits for businesses are not only limited to how the employees can use the innovations. Research about target markets can also get more precise. How come? The thing is that when people search for something via voice, they do it naturally in a conversational tone. They usually say out a whole sentence as if they'd say it to a friend.
So studying the vocalized keywords gives advertisers a better understanding of who their customers are as people. And, most importantly: it informs copywriters on the type of language they should use on ads.
Improved Workflows at Workplaces
Using voice assistance in business has the potential to simplify many work processes. For example, scheduling meetings could be as simple as saying: "Set up lunch with John at 5 pm." That's also much quicker than opening up the calendar software, finding the right day, marking it, etc. And whether your company develops software for live roulette casinos or sells handmade pottery, the saved time will be valuable. Employees can use the extra minutes to boost their workflow efficiency and get more things done.
Google shows the lead again with its scheduling software. You can use your voice to create new events, make appointments, and even ask about your upcoming meetings. For a small fee, you can even start sending out Google's voice messages. It's a quick and simple alternative to crafting emails. So in the future, we can probably see most workplaces adopting this method of messaging.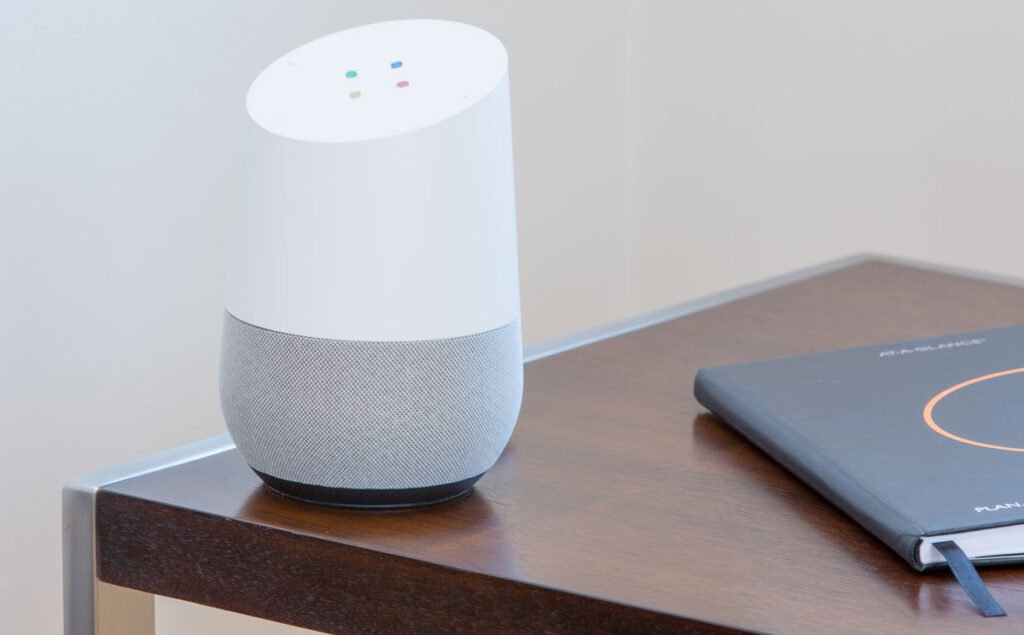 Search Engines Will Become Less Important
Voice technology in marketing will also change the way advertisers approach search engine optimization (SEO). At the moment, ranking high on Google stays at the top of most businesses' marketing goals. However, as voice search becomes more prominent, people might turn to their virtual assistants instead of search engines. And the artificial intelligence-powered software starts to act like a virtual salesperson.
Screens Will Disappear?
Let's take a look at voice technology's pros and cons for the development of smart devices. As voice assistants become increasingly sophisticated, we might soon do without screens. That could bring many additional benefits. For example, people could safely interact with their mobile phones while driving. Or, they might talk to artificial intelligence in their homes to turn off the lights, set up the TV, etc. Since the new technology would not need screens, users could interact with it via microphones "hidden" all over the house.
But are there any disadvantages of using voice commands? Yes, there are. Talking to our devices all day long might start to strain our voices. In worse cases, you might even experience dry mouth and hoarseness from giving all the speech commands. So although screenless technology could make life more convenient, we still need to find ways to protect voices from overuse.
There Won't Be a Need for Wallets!
The cool thing about the voice is that it can get used to identify a person. So when customers want to buy products online using speech, their voice gets compared to a pre-recording of them talking. And only a match enables them to complete their purchases. This identification process ensures the safety of the transactions and makes sure only the owner of the wallet can use it.
You might wonder if eShops have been eager to adopt this type of nifty feature. Unfortunately, not yet. The only voice technology news about an application using voice identification comes from Google. They've released the app Hands-Free, which lets you make payments with your phone without any tapping. But at the moment, it's available only in the San Francisco area. However, if the experiment proves to be successful, we can expect more widespread adoption. And carrying a physical wallet would then become pretty unnecessary.
Voice Technology Will Improve the Lives of Disabled and Elderly People
Whether someone has impaired mobility or sight, voice technology can change the way they handle everyday tasks. For example, the personal assistant software can vocalize what's around a person. People with bad eyesight can then use the information to orient the room.
A voice assistant could also help older people in case of accidents. For example, after falling, they might not be able to get to the phone. But if the apartment gets equipped with smart microphones, the emergency service could get reached via speech.
In Summary
So this was our overview of how voice technology benefits and changes our lives right now and in the near future. And the virtual assistants get more capable every year. So we can expect people to start talking to machines everywhere in life. Our digital voice-pals will help us stay at the top of workplace tasks and plan chores at home. And the innovations are bound to change the marketing world as well. Virtual assistants will become increasingly prominent in recommending products. They might even replace real-life salespeople in the next decade. Are you ready for it?
What are the voice technology benefits you are enjoying already in 2021? Share your experiences in the comments.