Why BattleGround Mobile India is being launched?
Page Visited: 1779
Read Time:
4 Minute, 15 Second
As we all know our favourite mobile multiplayer battle royale game PUBG was banned on September 2, 2020, due to conflict with China. Now a similar type of game known as BattleGround Mobile India is coming to India. Though I am not here to talk about this game release date which you can learn from various other sources, I am here to talk about why BattleGround Mobile India is launched in India after banning PUBG mobile, and what makes a Korean company develop a game solely for India, also I will give my opinion on the game how it might look and feel like.
Why was Pubg banned?
Let's talk about why was PUBG mobile actually banned. The government stated that the app engaged in activities that are prejudicial to sovereignty and integrity, defence and security of the country, according to Section 69A of the Information Technology Act. Though the actual ban according to me was just to undermine china during the Indo-china border dispute. By banning 118 Chinese apps, it was an act out of desperation to undermine China. Though not only India banned PUBG other 5 countries like Pakistan, Afghanistan, China, Nepal and more also banned PUBG. Yes, China also banned PUBG, it was because of bloodshed in the game.
There are many reasons to ban PUBG
The youth was quite addicted to this game, and this resulted in suicide
Tencent was acquiring user data and providing it to the Chinese government
We also click on "Yes" when an app asks for permission
This causes the app to get our contact information, photos, location, lot of sensitive data.
It also had your Payment information if you used in-game purchase.
So banning PUBG was actually good for us in many ways. Now let's talk about Battleground Mobile India.
Before this, I would like to mention a failed attempt by India to replace PUBG with FAU-G according to me. As I played the game for a while waiting for different game modes. Till today I am waiting for different game modes, from the date of launch. And I am tired of playing the single-player mode which is repetitive. Though I appreciate the attempt of making a decent game. But they should bring all the updates quick to keep the game alive.
BattleGround Mobile India
BattleGround Mobile India is made by South Korean company Krafton, which BTW owns PUBG. Krafton is formerly known as Bluehole. Tencent already holds a 15.5% stake at Krafton according to the source. Tencent is a Chinese multinational company. And hence during the conflict with China, we banned all Chinese apps including PUBG.
Though Battle Ground Mobile India is developed completely different from Tencent. Krafton has specified its privacy policy for the game. which will abide by the Indian Laws and Regulations
One thing I noticed when researching, that the URL in Playstore for Battle Ground mobile India was "pubg.imobile". I think this game was earlier going to named has PUBG India Mobile.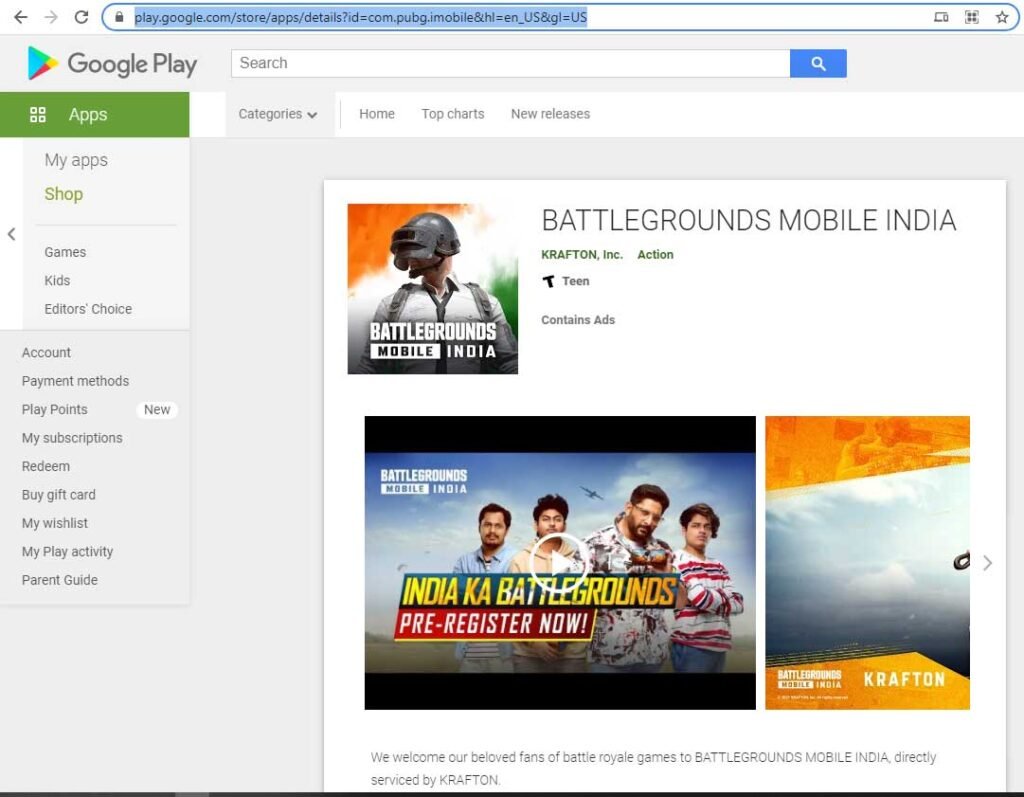 Reason for BattleGround Mobile India launch
India has one of the largest userbases for PUBG. Prior to the ban, India had 50 million active monthly users, even after the ban, PUBG mobile has 19 million active users. Most of the players are playing using VPN to bypass the location restrictions. Also at the time of the ban, the total downloads from India were around 180 Million.
So Krafton didn't want to lose this userbase from India. Hence they relaunched PUBG with a different name and improved the privacy policy according to Indian laws and regulations.
One of the most important reasons which I believe is India has a huge impact on the global gaming community.
The Indian gaming industry is valued at $930 million and it is number one in the world. There are 620 million gamers in India (if you see we have more gamers than people living in the US).
India topped the list of mobile game downloads in 2020. The number was 7.3 billion games download, nearly 17% of all worldwide downloads.
Most gamers are mobile gamers, around 85% of games are played using mobile in India, and PC gamers are 11%.
This clearly shows Mobile gaming dominates in India. There are 2 main reasons for this, cheap and easy Mobile 4G data and easy portable gaming. Also mobile is much more affordable than a gaming console or gaming PC.
So not utilizing this vast audience would be a huge loss for an Krafton. Also for other foreign gaming companies.
Opinion on how would BattleGround Mobile India might look.
I believe the gameplay will be similar to PUBG, but the location would have an Indian touch to it. Though we might not see all the things which we get to see on PUBG during the launch, with time as the game develops we can get more and more amazing updates. We might see Indian guns like OFB 12 Bore Pump Action Shotgun, 1B1 INSAS to get more Indian touch to the game. I will update after the Battle Ground Mobile India is launched with gameplay updates.