Page Visited: 4693
Read Time:
6 Minute, 42 Second
"…Kolkatar purono badi gulo demolish hobaye shomoshyay podeche Kolkatar bhoot."
What is it that first comes to your mind when you think of a ghost film? Is it long dark corridors, the tall ceilings or is it the headless horseman patrolling the area or an innocent child with evil eyes? What sort of a ghost would it be that possesses none of these features? Imagine a group of people, belonging to different eras, different professions, different countries and different cultures coming together with one thing common in them, they are all dead. Imagine a group of spirits dislocated in a developing city and struggling to get themselves a place to reside.
Beating all the conventional ghosts elements out of the field, Anik Dutta's Bhooter Bhaobisoyat emerged as one the best Bengali ghost films made till now. This film brings together the best Bengali actors like Paran Bandhopadhyay, Biswajit Chatterjee, Sabyasachi Chakrabarty, Saswat Chatterjee, Sumit Samadder, Swastika Mukherjee, Parambrata Chatterjee, Udhayshankar Paul and many more. It's background score and title card is inspired by Satyajit Ray, reminding us all of the bhooter raja from Gupi Gayen Baga Bayen.
Summary
Ayan Sengupta (Pramabrata Chatterjee), a film director arrives at a huge mansion with his assistant director and the production manager. The caretaker of the house leads them in and shows them all the sections of the mansion. It was a disputed property; a huge, ancient, and typical Bengali mansion with grilled railings, checkered floors, old architecture and antiques stuffed in every room. A little later all three disperse to carry out their tasks leaving behind Ayan, who is waiting for the DOP. Ayan, who has a curious mind, moves around the house and explores the rooms. To his interest, he finds an old edition of Battle of Plassey and Anand Bazar Patrika of 1971 that covers the death of the Naxalite leader. Glancing over these things he reclines of a chair and dozes off.
Just then a man, who claims to be a resident of the place, enters and revives Ayan from his slumber. He explains that the caretaker, Sudhirbabu (Bibhu Bhattacharjee), might have mistakenly said that the place was empty. Ayan, who himself is a stranger to the place, believes the man (Sabyasachi Chakrabarty) and they start their conversation with a brief introduction which soon leads to a full-fledge discourse. The man starts discussing films with the director and, seeking an opportunity, pitches his own and that is where the fun begins. The different characters are introduced, there are plot points, there's music, drama, a little bit of romance and action, and while there's no "Hero-Heroine" concept, there is a bunch of eccentric ghosts who fit for all – hero, heroine and villain.
The most astonishing aspect of the film is that it is not only a comedy ghost story, which already sounds a bizarre combination, but also has an air of political satire and the caste system. It takes us to different eras, from 1857 to the current time. To add to the humour, there is a constant dispute among the people, sometimes it is between Pablo of 21st century and Darpo Narayan of 19th Century, sometimes it is between Khaja Khan and Bhootnath Bhaduri regarding Kadalibala and sometimes between Darpo Narayan and Bhootnath on the ghoti-bangal issue. In all, with spook, humour and little of satire, the film is total entertainment.
Halloween Treat
"-Eyi bhooter bepar a gujok bolchen bote, tobe ato purono akta badi, do-ak piece bhoot to thaakteyi pare, ki na?

-Thaakbe ki morayi, ritimoto ache."
For movie buffs looking forward to spooky films during this Halloween, Bhooter Bhobisoyat is a 'trick or treat'. The film is not really horror or scary to be specific, it is spooky, and talking about spooky the first thing that comes is the setting. With long corridors and dark staircase, rooms stuffed with antiques under the thick layer of dust, views obstructed by spider's web in a forlorn mansion does set a chilling atmosphere.
It also has elements of gothic-like the huge mansion that plays for the iconic castles, a clash between ghosts and humans representing a clash between past and present. There is a caretaker who is least interested in the house, there are promoters waiting to demolish the mansion and then there are filmmakers who find the mansion aesthetic and yet, with so many people after it, the house is in dire strait. The plight of the house equates with the plight of its inhabitants, the ghosts, who also have no one to care for them, and both are relics of the past. While the mansion is a metonymy of the ghosts, it also adds to the aesthetic value of the film.
Pablo believes all men are equal but Darpo Narayan Chaudhary, belonging to the nineteenth century, still treats Atmaram differently, because he belongs to the lower caste. This shows social upheaval and the ghosts feeling helpless when they get the news of the mansion being sold shows confinement. However, these elements don't fulfil the requirement of the gothic genre. The trouble here is not the existence of ghosts in the human world but the existence of humans in the ghosts' world.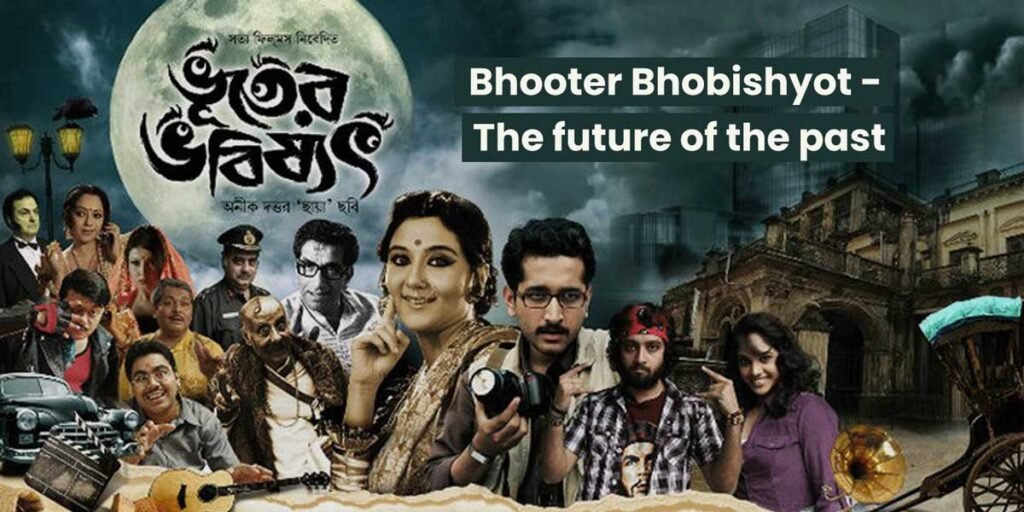 Cinematic Liberty
The film spares out nothing and yet it doesn't feel overloaded. It has drama, emotions, songs from the 1940s, from a Bengali Band and an item song as well, it has a crisis, action, and then a happy ending. The switches its tone and we see the film as Ayan decides to make it, with Darpo Narayan in sepia and Kadalibala in black and white. Moreover, the death of every ghost has been given due importance. Darpo Narayan gets murdered by the dacoits because in his era the dacoits did kill people. Atmaram dies after being crushed by a car which is again very prevalent in big developing cities. Kadalibala commits suicide after being ditched by her lover and getting consumed by depression, shows the selfish nature of human. Pablo dies after overdosing on heroin, while Brigadier Yudhajit Sarkar and Khaja Khan were martyrs who take pride in their death.
The ghosts go through a tedious process of an interview to get selected as an inhabitant of the house. After their selection, they have a good time together. Bhootnath, who can easily pick a fish of his choice, instead chooses to take a rickshaw and reach the fish market to get himself a fish. They all have parties and picnics and live in unity along with conflict among them. The director has flipped the sides and the ghosts are shown as humans while the humans have little role to play in the entire film.
Conclusion
Bengali cinema has seen a terrible decline between the mid-2000s to 2010s. It was during that time, in 2012, that Bhooter Bhobisoyat was released which boosted the Bengali cinema with its exquisite frames and fine language. It was a relief from the Hindi and Tamil films that Bengali cinema had begun to copy with terrible acting, foul language and embarrassing jokes.
Anik Datta indeed has made a fine film incorporating everything to cater the heterogeneous audience. Though the way the ghosts spend their days is absolutely bizarre and comical, one can believe in it for the director justifies them. The story sinks deep in the mind of the Bengalis for they can relate to the puns and clash of wit. Even the title has chosen intelligently – Bhooter Bhobisoyat, which means 'the future (Bhobisoyat) of the past (Bhooter) or the future of the ghosts (Bhooter), both of which is correct. Lastly, whether or not it is Halloween, Bhooter Bhobisoyat is a film that is worth appreciation for its finest production and a film that every film lover must watch.
"Na, na, amaar eyi golpo ta te onek gulo sthor ache; abom jothesto maal mosala o ache. Crime, passion, thrill, prem, nacha gana, eyi shob niye besh akta jomjomat pot boiler."