Mandi Movie, Revisiting the era of parallel cinema
Page Visited: 2633
Read Time:
7 Minute, 39 Second
"Kati patang ki tarah zindagi hoti hai hum aurato ki; hawa ke thapede najane kaha la ke patak dete hai."
Early on a busy day Rukmani Bai, sitting in Zeenat's room, surrounded by her girls, contemplates over her miscarried life. She consoles Phoolmani and warns Zeenat by reiterating her story that men were "rascals" and "loafers" ever. Women have always been commoditized, used and discarded as and when it pleased the men. This side of our society is not hidden from the rest of the world but how many of us really care? Shyam Benegal's masterpiece Mandi, released in 1983, yet again reflects upon the darker side of the society. It is a feministic, dark and satirical film that might not have won many awards but in the eyes of film critics is definitely a piece of art.
Mandi Story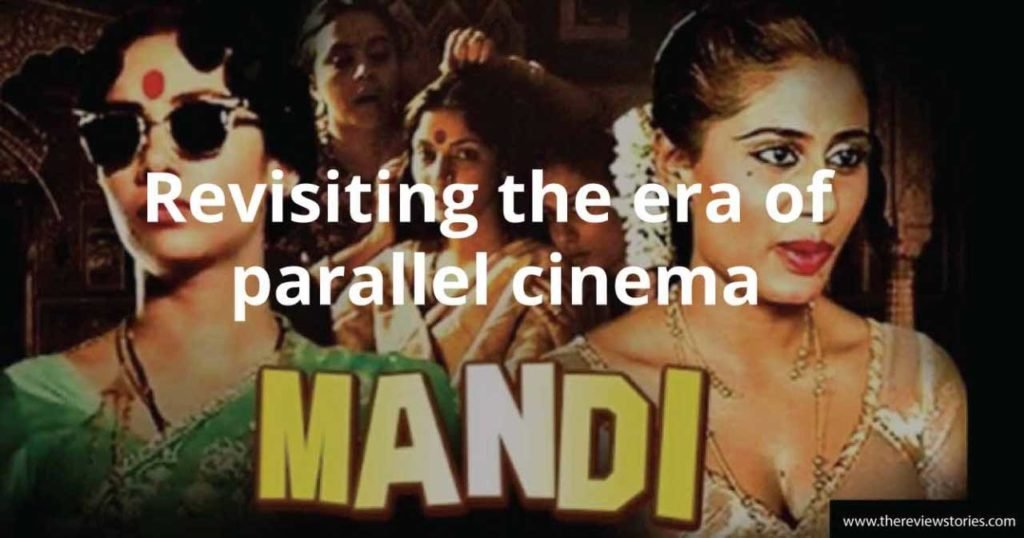 The story revolves around Rukmani Bai, the madam of a brothel, which is located in the backstreets of Hyderabad. Based on an Urdu short story Aanandi by a Pakistani writer Ghulam Abbas, it is indeed a tale of sex workers but excluding violence, abuse or exploitation. Instead, it manifests sisterhood bond, self-righteousness and above all humanity.
The day has just begun and the girls are doing their course when a man, Shrikant, arrives with his newlywed wife, Phoolmani, to sell her off to Rukmani. When the strings of Phoolmani's fate are tied with that of Rukmani's it played havoc with the lives inhabiting in the kotha. Another thing that ravaged her life was her relationship with Gupta Ji, who is now her landlord also, and who under the influence of other politicians makes Rukamni evacuate the house. Thereupon, what Tungrus anticipated at the beginning of the film proved right, everybody left her but Tungrus stuck around.
Mandi has all the influential artists stacked up in the film. To begin with, there is Rukmani, the mother-like figure beautifully played by Shabana Azami, who chides and snaps the girls for skylarking in the house. Then there is Tungrus, brilliantly played by Naseeruddin Shah, are Rukmani's right hand and a very loyal chap. Om Puri plays as an incorrigible photographer lurking around to capture naked photos of the girls. Harish Patel is a good-for-nothing constable who adds humour to the story. Darvish is a devotee and is like a torch-bearer in Rukmani's life. The finest Amprish Puri carried out this role with his heavy voice and large eyes. Khulbhusan Khabbra and Saeed Jaffery as Mr Gupta and Mr Agarwal respectively, are the two men Rukmani manipulates to fulfil her wants. In the end, Sreela Majumdar as Phoolmani comes as a deus ex machina to rekindle Rukmani's life.
An Arc of Themes
The major theme in the film is humanity. Amid controversies about whether to legalize sex workers or not and do they deserve to get acknowledged for their work or not, Benegal exposed a different façade of the situation. Quitting from deciding whether they deserve dignity or not, he tried to humanize sex workers. Through Mandi, he exalts and compares their work with art.
"Hashim Saheb to jante hain, ki hum hunar aur mehnat se kalakar hain, par kismat ne hume kichchhad mein patak diya"
Besides, the film also draws the curtain on the paradoxes of our society. Shanti Devi, Aggarwal Ji and Gupta Ji are all the epitome of hypocrisy. Phoolmani had to go through all the mistreatment but Shrikant, who sold her off, got away with it. The important fact here is that in our society it is the women who need shelter and not the men, which brings to the surface the mind-numbingly obvious misogynistic and prejudiced outlook on them. Secondly, do associations like Nari Niketan really work for women?
Another theme of Mandi is loyalty, which has never been able to seek its root in this materialistic world. In the face of adversity, the girls seem to stick together but deep inside they sought an escape to freedom. Let alone the other girls, Zeenat who was the apple of Rukmani's eye also dumped her no sooner than she found a vent to escape. She even ditched Sushil, her lover, with whom she ran away. The only face of Loyalty was Naseeruddin Shah's Tungrus who followed Rukmani Bai no matter how poor the situation was.
The film also takes into the loop the double standard politicians. Shanti Devi wants to wipe out Rukmani Bai and the girls, whom she named mail (dirt), from the city. However, according to Rukmani Shanti has an affair with her son-in-law and that she is no saint. In the end, Phoolmani returns to Rukamni because perhaps, Nari Niketan treated her worse than the Kotha did.
Metaphorical Facet
Rukmani Bai has pet a parrot, tamed it in a cage to protect it from the eagles. It repeats what it picks up but that day, just before Shrikant's arrival, Rukmani pronounced "Ram" and it said "Ravan." It was perhaps hinting that soon things will no longer be as it pleases Rukmani. The parrot also symbolizes the lives of the girls, especially Zeenat's whom Rukmani has tamed to protect her from the evil men. Though they enjoy their liberty at home yet a chance to escape will only be a blessing.
The dilapidated house in which they live symbolizes their fate where they are dumped. While the jocundity that they create inside the house symbolizes their lively souls that still is joyful. After the municipal committee asked to evacuate the house, another place where they go is nothing more than a wasteland but with their constant bustling chatter and thriving enthusiastic energies, they make it their own.
There are mirrors placed in every room of the house. There's a scene when Gupta Ji and Aggarwal Ji are sitting and in the mirror we see Rukmani entering the room and taking her place. The mirrors are a constant reminder that there's a need to reflect upon ourselves. The mirrors also signify that the people have two faces; one in which you can't see and that what you see is a mask.
That's how meticulous Benegal was when it was about mise-en-scene. Everything that we see on screen has been put there with deep intentions.
The Dwelling Paradoxes
Shanti Devi, a member of the municipal committee, runs Nari Niketan (women's shelter) in the city. On learning that Rukmani is holding a minor girl captive, she decides to stage a protest in front of her kotha. Ironically, the attendees of the protest were a thronging crowd of men, who would otherwise visit the kotha as a customer.
On the other hand, Shanti Devi, despite being a woman herself, directs all her efforts towards expunging Rukmani Bai and her girls from the city. Where she should have strived to aid the women, especially keeping in view her office, she misses no chance at perforating the already loosely woven lives inhabiting in the kotha only to prove her civility.
Aggarwal, a slave to his materialism, deals his son in exchange for a mortgaged house. He also abandons Zeenat, who is his biological daughter, only for the sake of his dignity. When one of the bordello girls gets pregnant Rukmani prays that this time is it a girl. Neither she nor the mother has any plans for educating or providing the children with a better life; all Rukmani wants is a girl who would eventually join the brothel.
Conclusion
"Mard kharidta tabhi toh aurat bechta khud ko, aur kharabi sirf aurat me dikhti hai, mard me nahi."
In a patriarchal society, no one dares to speak against the men. It is always the woman who is at fault. The women are called dirt, while the men who make them dirty stand and watch the protest. A board of men decides whether a girl would stay in the kotha or in Nari Niketan's care, while no one punishes the man who sold her off. Because they are prostitutes, elites of our society like Mr Gupta, dump them in a barren land to perish. When nobody cares for the women they got to look after themselves and even if they have nothing to offer, they have their bodies which ultimately buy them bread and butter.
However, this doesn't mean that the women are doomed or that prostitution makes them any less of a human. And that is what Benegal's film Mandi is all about. The dilapidated house was revitalized by a group of chaotic girls, a houseboy, a constable and two pets including a parrot and a goat. Melodic music reverberates in the house among the hustle-bustle and merriment. There is a mother-like figure that looks after the house and the girls are like sisters to each other, spending their days playing around, sometimes bantering, practising music and dance and gossiping. Binding the emotions and people with so much delicacy, Benegal has created a masterpiece that film lovers cannot help watching again and again.