How to Add an Instant Charm to Your Garden: A Top N Guide
Page Visited: 3378
Read Time:
8 Minute, 11 Second
A luxury house with all amenities and eye-catching interiors is, of course, great. But the yard and garden should correspond to it. In other words, it is also important to dedicate time to creating a beautiful landscape design of the area by your house so that it is pleasant to spend time in it too. These are some interesting ideas for arranging a garden and yard for those who want to use the available area and add an instant charm to it.
What to expect
Landscaping by the house is a complex of measures, including the design of the courtyard, and zoning of the territory with the thoughtful arrangement of each zone, the laying of paths, the creation of a lighting system, and the landscaping Alpharetta and decoration of the garden.
For completeness of the landscape composition, it is important, firstly, to draw up a land plot in the same style with buildings, and secondly, to take into account the size and scale of the territory. The scale of the functional zones, landscaping methods, and decorative elements that you can afford depending on this.
As for zoning, it is ideal, of course, to divide the area near the house into:
Outdoor dining area
When the weather is nice, a great opportunity to spend more time in the fresh air is to have lunch and dinner outdoors, so why not equip a special area for it in your own backyard? A table with several chairs or benches does not require much space — pave the area behind the house with tiles or garden parquet, and build a canopy to protect it from rain, this will add an instant charm.
To create a cosy and pleasant atmosphere, hang curtains and luminous garlands or lanterns. Choose outdoor furniture that will match your needs, make a small flower bed with flowering next to the dining area, or put pots with indoor plants around to decorate it.
Recreation Area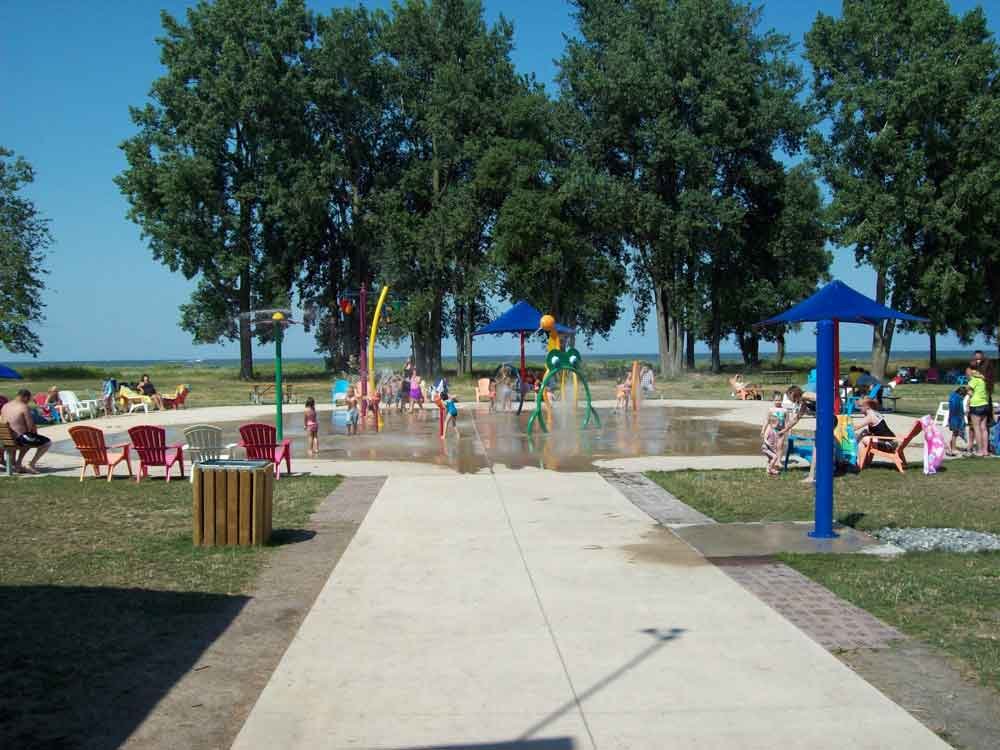 Organize a relaxation area in the backyard with comfortable chairs or sun loungers, a beautiful flower garden, and garden sculptures. Create an oasis where you will have a good time after the working week. Put wicker chairs or a sofa, a small table, add a few rugs in case of coolness, and a couple of pillows for cosiness. Also in the backyard, you can make a swing under a canopy, and arrange floor lamps with candles to relax in a cosy and romantic atmosphere. Any swing with or without a back, or with a roof, can decorate your yard. They can be made of metal or wood, and equipped with soft removable pillows. An alternative is a hammock or a hanging chair, which can be made of rope, fabric, or rattan.
Barbecue corner and backyard fireplace
The backyard is an ideal place to create a cooking corner. The best option is to build a stone stove or put a stationary barbecue and equip a dining room under a canopy, designed not only for the family but also for guests. You can also invest in a high-performing TEC grill if you want value and quality that will last a lifetime.
Those who like to sit by the fire should consider the option of creating a fireplace in the backyard. It is a shallow pit, the walls of which are lined with durable stones or bricks — it is easy to do it yourself using the instructions on the Internet. In case of rain, it is you should provide some kind of cover. You will spend a lot of pleasant evenings by the fire sharing stories and roasting marshmallows.
Outdoor Kitchen
The highlight of the backyard and the main element that decorates the territory can even be a kitchen. You can use it throughout the whole year, you'll free your house from the smell, cinder, and other cooking-related effects. When the temperatures are rising and air purity is especially essential, an outdoor kitchen will save you big time.
As for the design, the floor and walls, laid out of stone or tile to match the paths, will create a single ensemble.
Bright tiles and stone for paths
The courtyard near the house and all paths in the yard can be paved with tiles of the same colour or you could combine several shades of tiles or paving stones in one design.
Paths in the yard can be a central element of the decor if you approach their arrangement with imagination. For example, you can make a central path from wenge-coloured planks by placing them on a mound of white stone. Such a path can be decorated at the edges with low, geometry-shaped plants.
Well-maintained flower garden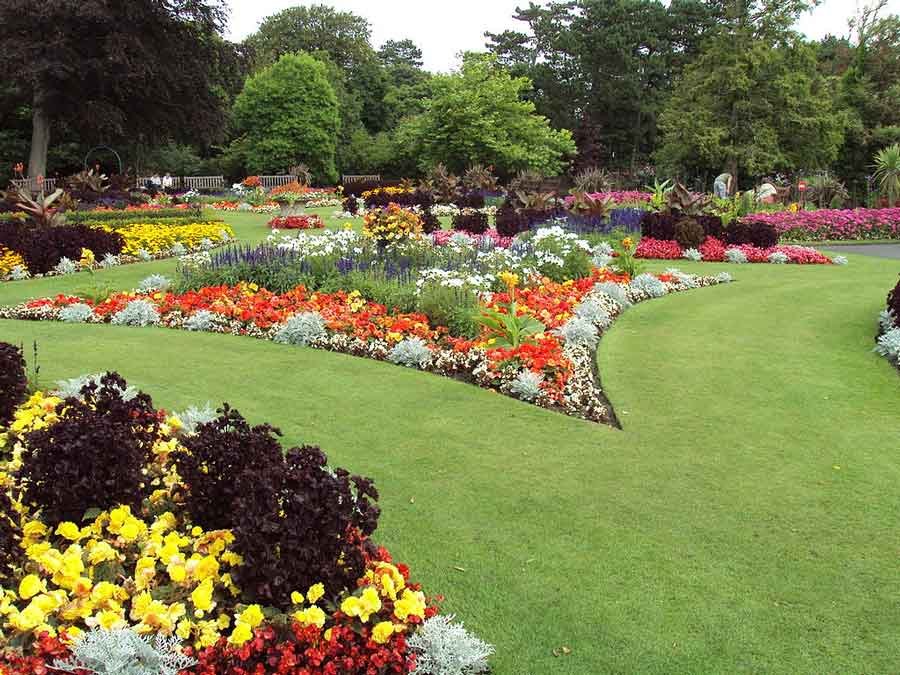 Turning the backyard into a well-kept green oasis with flowers adds instant charm to your garden. Make a decorative lawn on the territory and plant some unpretentious plants, for example, echinacea.
If the yard is in the shade, it's a good idea to partially cover it with gravel and pave it with stone, then the flowers in the tubs, as well as decorative grapes or hops surrounding the fence will cope with the role of green islands.
Even if you have a small yard, remember that green areas create a cosy and intimate atmosphere.
In order to make the best use of the space, you can also plant some herbs, which will embellish not only your garden but also your dishes.
Coniferous plants
Nowadays, the mainstream in the design of the yard can be considered geometry and naturalism. Coniferous trees and shrubs correspond to these trends like nothing else. Tall trees or low bushes can be placed throughout the yard and geometrically shaped.
Decoration with metal arches
Arches can be not only a useful structure for plants but also a decorative element. They can be used to separate zones or to decorate paths or benches.
Near the arch, you can plant perennial climbing roses or grapes. Over time, the plant will cover the arch, the composition will be supplemented and cosy.
Decorative pots
Flowers in pots that can be placed throughout the area, for example: at the entrance of the house or on the sides of the stairs, can be unusual decoration elements. For a harmonious design, choose flowerpots which, resemble the decor of the house itself, paths, fence, and other elements of the yard.
Lawn
You can plant the green lawn yourself or buy turf, which you just need to spread and continue to care for the grass as usual.
A beautiful and well-kept lawn is not an easy task. To maintain it properly you need to think about: cutting it, watering, fertilizing, etc. And it needs to be done regularly. Don't forget that the lawn needs moisture, so it would be great to have an irrigation system. Also, consider buying a mower or trimer, it will be necessary if you want a good-looking lawn.
One of the most important things is to keep your lawn clean and gather leaves and other unwanted things from it. You should use a good quality garden rake and other tools in order to keep it perfect.
Playground for kids
If you have children, let the backyard become their territory. All children dream of a treehouse — and you can easily make that dream come true by building a hut on a platform raised above the ground.
Also, you can arrange the area near the house and turn it into a playing spot. Equip it with a sofa with bright removable pillows, and add sports equipment, for example, a rope or a ladder. You can turn a part of the fence into a blackboard using special paint so that children can draw and write in the yard. The original idea will be to create a large chessboard in a garden out of two-colour tiles.
A playground zone is a safe and convenient solution for both kids and their parents.
Let there be light
Solar-powered flashlights add charm to a garden or open area, especially in the evening. Special lights can be placed throughout: on the sides of paths; on the flower beds; near the house; on the lawn; along the perimeter of the recreation area. The possibilities are countless.
Artificial pond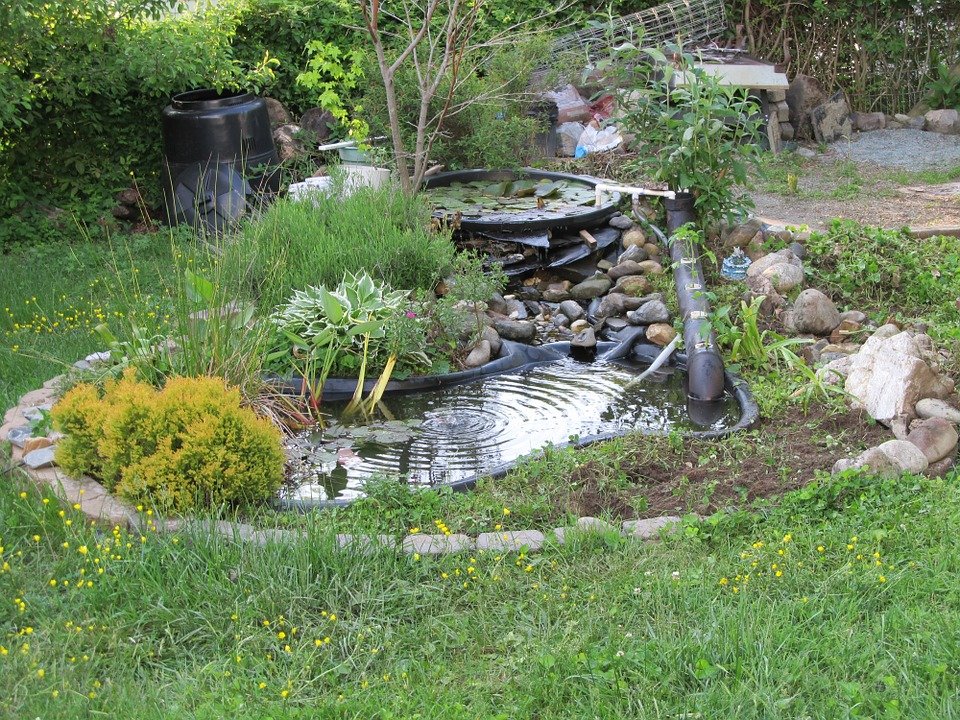 The most striking decoration of the yard can be an artificial pond. Thinking of how to build a pond and where it should be located can sometimes be overwhelming, but worry not, there are many ways to handle this. It can be arranged near the recreation area, summer kitchen, or gazebo. It is important to beautifully design a zone near the water. Slides made of decorative stone, and small flower beds with plants can easily cope with it too.
A bridge as an element of decoration
If you have a lot of free space in the yard, a bridge can be a great decorative element. You can put it across a pond or a flower bed. It doesn't have a big functionality, but it will definitely make your yard pretty unique.
Artificial waterfall
Large or even small — an artificial waterfall will surely refresh the space and add a charm & twist to the decoration of the garden. You can combine a pond and a waterfall or make a small waterfall design out of flowers in a flower bed.
Conclusion
These ideas will definitely help you or at least inspire you to add charm to your garden and yard and make it more comfortable. Don't forget that any yard, garden, backyard kitchen, or playground requires constant and thorough care. Special equipment and tools will help you ease this task. And the results of the work will certainly please you. Try to spend more time outdoors with your family and friends and enjoy your perfect garden!