Is Flying Car practical for everyday use?
Page Visited: 1144
Read Time:
3 Minute, 37 Second
Flying cars looks like a thought of the future, yes it was a thought of the future decades ago and still is. A company called Klein has developed and tested a Flying car. This car is powered by a BMW 1.6 litre engine which is capable of driving and flying the car. While in the air it can reach up to an altitude of 8000 Ft. It is called Aircar. We have seen quite a few experiments on a flying car, but this is the closest we have reached. Can flying cars be practical? Let's first see the History of Flying cars
History of Flying cars
The flying car definitely sounds futuristic but building a flying car is not a new concept.
In 1917 a flying car named Curtiss Autoplane was built by Glenn Curtiss. It was not a great design, but it definitely a good start towards new technology.
Another Flying car was developed by Waldo Waterman in 1937 named Aerobile. This had a detachable wing. Could have been a good start but lack of funding killed it.
Robert Fulton developed a flying car in 1946. The name of the vehicle was Airphibian. A great name for a car/plane. It was technically a 2 seater plane, with detachable wings and tail section. The conversion took about 5 mins. But when you drive it on road, it was basically driving the front of the plane on the road.
This was the funniest one. It was a car that was attached to a plane on the top. It was launched in 1947 named ConvAirCar, but the flying car crashed on the third flight.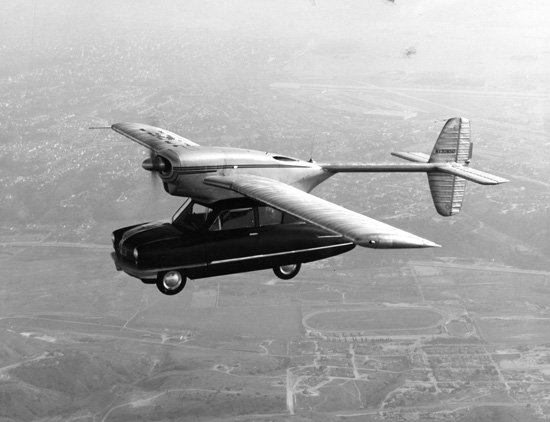 Aerocar was inspired by Airphibian and launched in 1954. This also had a detachable wind and a tail. This was a promising flying car, and Ford decided to market it but oil crises killed the project.
There were other experiments in the history of flying cars after that but nothing came into the market.
Aircar
This was developed by Klein VIsion in 2021 and has run a few test flights. it is powered by a BMW 1.6 litre engine with 300 Hp that can reach a top speed of 190 kmph with an altitude of 8000+ Ft. This has retractable wings that merge with the car body. It takes around 2:15 mins for this process. The cost of this Aircar is between $550,000 to $1.1 million. Which is expensive for a normal person. Thanks to the Klein vision website check out their website for more details.
So can Flying cars be practical?
Yes and no, let me explain Flying cars have achieved good technological advancements compared to the previous generation. We now have a better way of building a flying car, which is very important. Though Aircar still looks like a car with a giant spoiler in the back, it is quite long for normal streets. You need a good amount of space to take off and land.
Let's see some of the advantages and disadvantages
Advantages of Flying cars
It is a good inter-city travel vehicle
Good for people with a private place to land and take off
Can reduce traffic theoretically, because aircar is the first practical flying car
Can be quicker and cheaper to travel a shorter distance
Disadvantages of flying cars
The cost of the vehicle is high
Need to have some kind of air traffic regulation
Cant carry many people
Impractical for intracity travel
Need a special infrastructure for landing and taking off
Conclusion
Though there are both advantages and disadvantages of a flying car, these can be overcome by technological advancement, and also I have not added emissions to the list because we do not have a lot of flying cars today and in near future, we can build electric flying cars.
But the question comes when thinking about scaling up the flying cars, do we need flying cars as a daily commute vehicle, or this can just be a futuristic tech. I believe we can use flying cars in certain areas, like for travelling a short distance, that too an electric flying car. There is not much practical usage of flying cars according to me. We can definitely develop this technology and make it accessible in near future, Who knows how will be the future!