Page Visited: 1171
Read Time:
6 Minute, 33 Second
The Hyundai Ioniq 5 is a bold step into the future of electric vehicles (EVs) by the South Korean automaker. This compact crossover EV is a part of Hyundai's Ioniq sub-brand, dedicated to electric and hybrid vehicles. The Ioniq 5 is a blend of retro-futuristic design, advanced technology, and impressive performance, making it a strong contender in the EV market. We will write a detailed review of the Hyundai Ioniq 5, as it is one of my favourite EVs in the current market. I will also tell you why it is my favourite and who should buy it. The price is Rs 44.95 Lakhs ex-showroom and Rs 48.68 Lakh on the road in Nagpur.
Design & Interior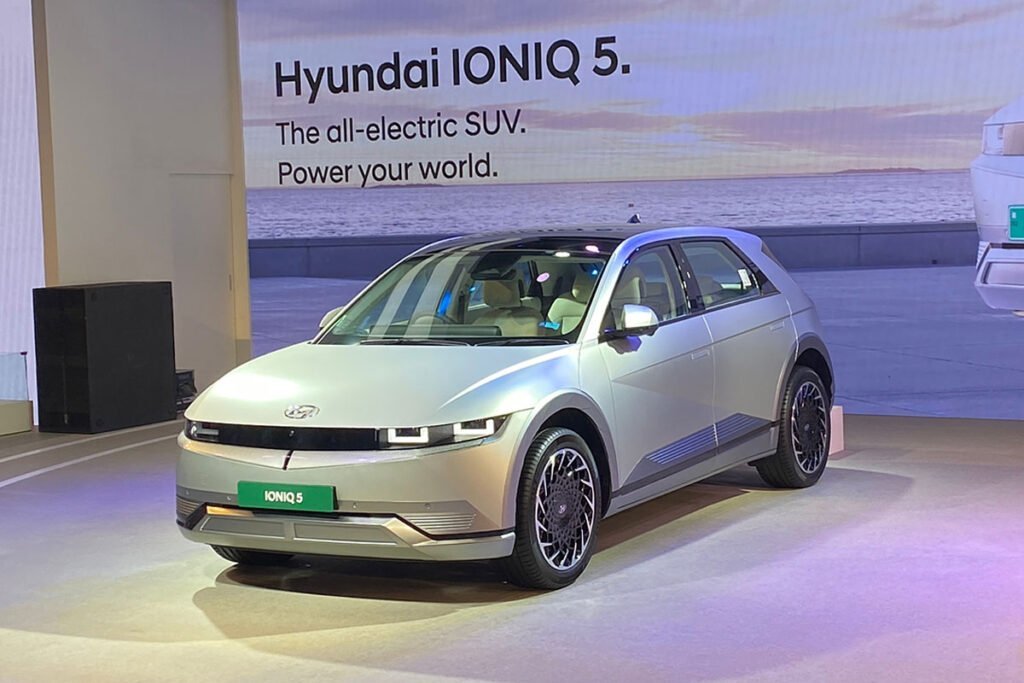 The Ioniq 5's design is a refreshing departure from the conventional. It boasts a retro-futuristic aesthetic, inspired by the Hyundai Pony, the company's first production car. The sharp lines, pixel-inspired lights, and clamshell hood give it a distinctive and modern look. Inside, the Ioniq 5 offers a spacious and comfortable cabin, thanks to its Electric-Global Modular Platform (E-GMP). The vehicle also boasts an eco-friendly aspect, with many interior elements made from sustainable materials.
Sustainable materials like bio paint for dashboards, door panels, steering wheels, and switches. This bio paint is made from oil extractions from plants such rape flowers and corn. Eco-friendly leather is used for carpet fabric and headlining. The interior of IONIQ 5 is dyed using flaxseed oil. The seats and door armrests are made from recycled PET bottles. The plastic bottles are shredded into plastic chips and they are melted and spun into threads. These threads are used as the upholstery factic for the seats and door armrests. The interior is equally impressive, with a minimalist design, high-quality materials, and a spacious cabin
Technology & Features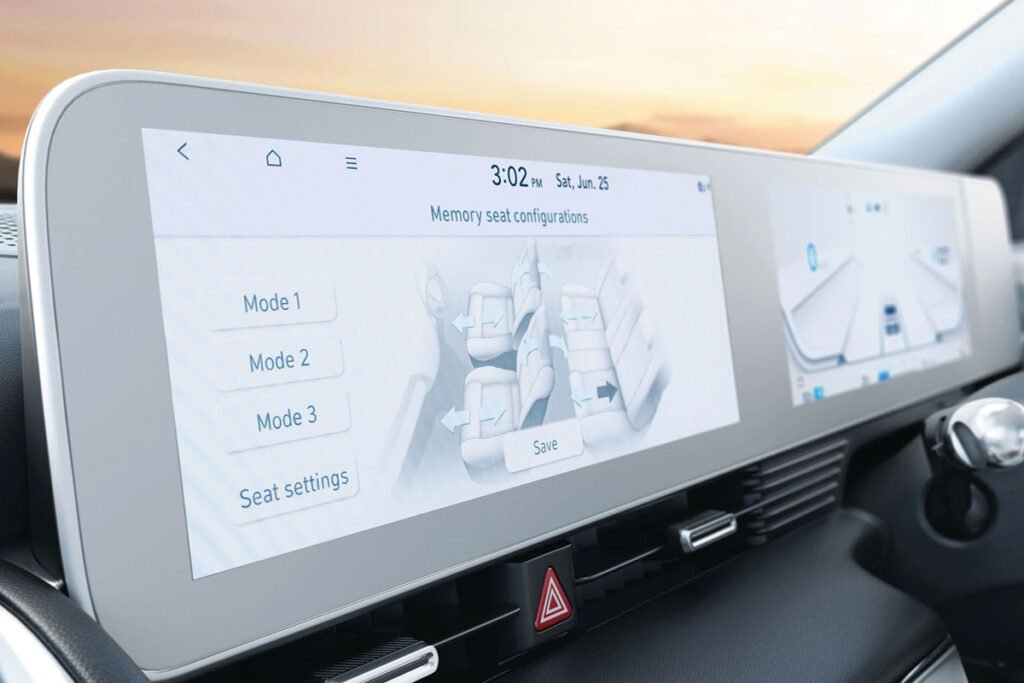 The dual-cockpit design and two 12.3-inch screens for the digital gauge cluster and infotainment system. Apple Carplay and Andriod Auto are supported in this infotainment system. It gets a 360° camera, and an optional rearview camera which you can switch if your rear glass is dirty and cannot see anything from your normal rearview mirror. You also get a head-up display with augmented reality. It gets a Vision roof, Memory seat configuration. Ventilated seats in front and heated seats in the rear. The front seats have powered adjustment but the rear seats only have a powered function to move the seats front and back by 135mm, but the recline is manual lever.
IONIQ 5 get's level 2 ADAS features which include Adaptive Cruise Control with Low-Speed Follow, Lane Departure Warning, Lane Keeping Assist, Lane Centering Assist, Automatic emergency braking, Blind spot monitor, Blind-spot collision – avoidance assist, Forward Collision Warning, Driver Attention Warning, Rear Cross Traffic Collision-Avoidance Assist, Reverse Parking Collision-Avoidance Assist, Auto High Beam, Safe Exit Assist, Intelligent Speed Limit Assist, and Leading vehicle departure alert (LVDA).
You get additional features like Column type Shift-by-wire, a Virtual engine sound system (VESS) to notify the pedestrians, an Electric parking brake, a Hands-free smart power tailgate with height adjustment, and Heated outside mirrors with LED turn indicators. Also, you get one-pedal driving, which makes your life quite easy in traffic. And it actually stops when you lift your foot off from the accelrator pedal.
One of the best features of EVs is V2L(Vehicle-to-Load): inside and outside. Though you dont get this in all the EVs Ioniq 5 has it. You can change your home appliances out of your vehicle. You also get a 3-point socket inside the cabin to charge your laptop.
Performance
The Ioniq 5 comes in two versions: a single-motor rear-wheel-drive layout and a dual-motor all-wheel-drive layout. The single-motor version offers 215 horsepower and 350 NM of torque, while the dual-motor version delivers a robust 320 horsepower and 605 NM of torque. The Ioniq 5's performance is commendable, with the dual-motor version accelerating from 0-60 mph in 5.2 seconds and the single-motor accelerating from 0-60 mph in 7.5 secs. Though in India we only get the RWD single-motor option.
The E-GMP is intended to achieve an increase in driving dynamics by increasing cornering performance and driver stability at higher speeds, thanks to optimal weight distribution among front and rear axles. The platform is capable of providing greater ride comfort and handling, thanks to the use of a five-link back suspension.
Battery and Charging
The Ioniq 5 is equipped with a 72.6 kWh battery, offering a range of approximately 481 Km on a single charge for a dual-motor version, and for a single-motor version, the range is 631 Km on a single charge. But the realistic range is around 380-420 Km. Which is competitive in the current EV market. One of the standout features is its ultra-fast charging capability. With a 350 kW DC charger, it can charge from 10% to 80% in just 18 minutes, and get a 100 km of range in just 5 mins charge. which is impressive.
Comfort and Practicality
The Ioniq 5 offers a spacious and comfortable interior, thanks to its long wheelbase (3000mm). The flat floor allows for ample legroom for both front and rear passengers. The vehicle also offers decent cargo space (531 Litres), making it practical for daily use and long trips. You get a Relaxation comfort seat on the front, some call it a gravity seat. Where with a press of a button you can recline the front seat and get a calves support. Which really makes you comfortable.
Who Should Buy It
The Ioniq 5 is perfect for those who are looking for a stylish, high-performing, and technologically advanced electric vehicle. It's ideal for both city driving and long-distance travel, thanks to its impressive range and fast charging. It's also a great choice for environmentally conscious consumers, as it's not only zero-emission but also uses sustainable materials in its interior. I think the car is priced very competitively making it a great value proposition when compared to Kia EV6. You get a vehicle that is not only fast but comfortable. Hope this Hyundai Ioniq 5 review gives you an idea of whether is vehicle is fit for you or not.
The downside of Ioniq 5
People in India will not be willing to spend 46 lakhs on an EV, they would prefer a vehicle that will make them feel special like a Fortuner or would spend more and go for BMW or Audi. India is still a new market for EVs and people are hesitant in adopting an EV.
Another issue which I found was the ride quality was a bit harsh as our Indian roads do not have great condition and that 255/45 R20 tyres have quite small sidewalls. A 19-inch wheel would have made quite a difference. But these tyres have amazing grip on a good surface of the road. The vehicle feels planted with a very low body roll at high speeds.
Conclusion
In conclusion, according to my review, the Hyundai Ioniq 5 is a well-rounded EV that offers a unique design, impressive performance, advanced technology, and practicality. It's fast-charging capability and decent range make it a viable option for those considering an electric vehicle. However, like any other vehicle, it's not without its drawbacks. The availability of charging stations and the relatively high price tag compared to conventional vehicles might be a concern for some potential buyers. Nonetheless, the Ioniq 5 is a significant step forward in Hyundai's electric ambitions and a strong contender in the EV market.