Mercedes Vision EQXX concept with sustainable materials and 1000 km Range
Page Visited: 1229
Read Time:
4 Minute, 23 Second
Yes, you have heard right, Mercedes has shown a concept Vision EQXX that will run for 620 miles (1000KM). It has a 100Kwh battery which is less than a Mercedes EQS, but has more range, so how is it possible? It seems like Mercedes is clearly focusing on and efficiency and sustainable material for the interior here.
Let's see how are they achieving this
Mercedes Vision EQXX concept
There are various long-tail cars like Jaguar XJ220, Porsche 935, Koenigsegg Regera, Maserati MC12, Nissan R390, Ford F3L, Mclaren speedtail, Volkswagen XL1. But this vision EQXX has a resemblance to Koenigsegg Regera and McLaren speedtail according to me. The brake lights look similar to KIA EV6. I personally like the design of the vision EQXX concept. As this is how an efficient EV should look like, I am no designer, but I understand cars, and one thing is for sure, the less drag the car has, the more efficient a car can be. I think more cars should opt for this kind of design.
Now let's talk about battery and how Mercedes is achieving this efficiency
Technology in EQXX concept
This EQXX concept has a 100KWH battery which is denser, it is 30% lighter and has 50% less volume than other EV's in the market. Also, the total weight of the car is 1750 kilo thanks to all the lightweight material used. Most importantly it has a drag coefficient of 0.17 cd which makes it the most aerodynamic car to date. For reference, Mercedes EQS has a 108 KW battery with a total weight of 2500 KG and a drag coefficient of 0.2 cd making it the most aerodynamic car to date.
EQXX battery operates at 900 volts and has an energy density of nearly 400 WH/L. Which makes this EV 95% efficient the highest in the market today. There is significant progress in the chemistry of anodes, these anodes have higher silicon content and an advanced composition which allows them to store more energy.
It has a retractable diffuser, which is released at high speed to reduce the drag and retracted back at lower speeds.
Mercedes Vision EQXX concept has 117 solar cells on the roof, that powers several features of the cars, and also provides an extra 25 KM of range.
Mercedes is focusing on miles/KWh, as that will be more important than the range in future when we have an infrastructure with fast charging stations. In 1KW EQXX will travel around 6 miles, which is 50% more than most EVs on the road today. Honestly, that's what we are always concerned about how much mileage does our petrol or diesel cars give, and in future, that's what will matter in electric vehicles also.
Interior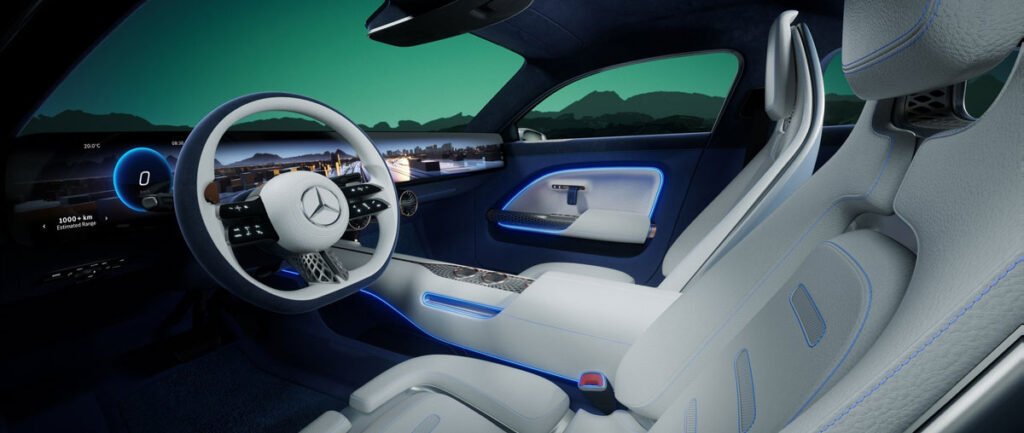 This has a one-piece LED touch screen of 47.5 inches wide with an 8k display and a resolution of 7680×660, with 3D navigation. The voice control avatar of Vision EQXX is based upon Mercédès Jellinek, who is the daughter of Jellinek after which he named the car company.
The material used in the interior of this car is all sustainable material.
Like carpets that are made up of bamboo fibre
The door pulls are made up of biodegradable vegan silk
The seats are made up of cactus fibre and Mylo, Mylo is a biomaterial made from mycelium fungi
The battery case is made up of sugarcane waste and carbon fibre
The interior panels are made up of recycled plastic bottle
Performace
This concept was created in 18 months, and they drove the car for 1,80,000 miles in the computer which helped them to achieve the drag coefficient of 0.17 and a range of 1000 KM
Looking at the design, it looks like a hypercar, that is having loads of power and performance, but as Mercedes is focusing on efficiency this EQXX concept will only have a single motor with 200 HP driving rear wheels. But this performance does not justify the design, so I would really like to see a Faster version like an AMG of EQXX.
Conclusion
It is not like EQXX is going into production, this is a research car by Mercedes to show what how would the future of passenger cars would look like, we might see some of the battery tech and features in other Mercedes cars in future. And the drag coefficient of 0.17 is mind-blowing, I am eager to see is it even possible to achieve in a real-life production car.
But Mercedes said they would test the 1000 km range in spring by doing a road trip.
But this kind of research really boost the electric vehicles market, if the interior can be made using sustainable material, if the battery could have 95% efficiency then we can really say that electric vehicles are good for the environment, also we need to charge with a clean source of energy obviously.
It would be cool if Mercedes built this exact car, but that would be expensive, we have to give these technologies time and we could see an actual production car.
Thanks to the Mercedes website for information
https://www.mercedes-benz.com/en/vehicles/passenger-cars/concept-cars/vision-eqxx-the-new-benchmark-of-effiency/