Party Makeup Ideas That Are Absolutely Worth Copying
Page Visited: 4008
Read Time:
3 Minute, 46 Second
When it's party season that means that your makeup will need to have an extra dose of sparkles. There are so many ways to do your party makeup therefore there are so many tips to discover that will make your eyes and lips stand out. If you are looking for some new party makeup ideas here are some that are copyrighted.
A Star-Crossed Look
If you like the look of freckles, but that makeup trend is too plain for you, there is a great way to spice it up. Instead of making or enhancing the freckles with a powder, you can use eyelash glue to put on some sparkle freckles. You can even go bolder and instead of applying just plain glitter use little stars, flowers or butterflies. Those mini gem-like stickers are great if you want to be more subtle with your look.
Fun Eyes Nude Lips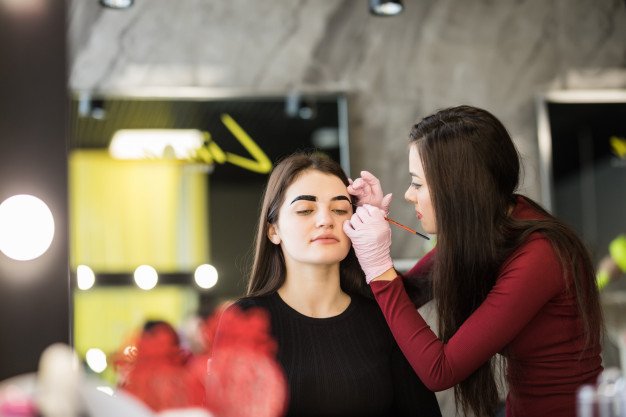 If you aren't someone who experiments with bold eyeshadow looks or any kind of eye looks, what better time to do so than when going to a party. Pick out three of your favourite eyeshadow colours that are bolder and combine them into an eye look so you get an ombre effect. Because your eyes should be the centre of attention go for a nude lip and a bit of bronzer on your cheeks.
A Kohl Cat-Eye
If bold sparkly eye makeup is not your cup of tea, you can still create amazing party makeup looks. You can go for something simpler yet eye-catching. Try out a sixties intrepid makeup look by creating a very bold and dark cat-eye combined with a dark nude lipstick. 
A Bold Bright Under Liner
If you aren't a fan of wearing colourful eyeliner but still want that subtle pop of colour there is a way you can accomplish that. You can simply line your waterline with bold colour and match it with bold lipstick colour.
Gold Enhanced Eyes
If you are someone who likes the look of gold accents a great makeup look that is worth trying out is this one. Once you have done your desired eyeshadow look, using a golden eyeliner you will want to create a V around your inner corner. This is a great twist on a simple cat-eye.
The Barbie Girl Look
A popular misconception is that you have to have a certain type of skin tone to wear pink lipstick. But that is not true, pink lipstick can look amazing on anyone. Pair your lipstick with a simple blue shimmery eyeshadow and finish off the whole look with some mascara.
A Deep Mulled Wine Look
Why should you turn up your lipstick game only during the holidays? Putting on dark makeup is the best way to add some drama. For your eyeshadow, you will want to use dark red almost purple colours and top the look off with a deep mulled wine lip colour.
The Mega Eyelash Look
This look is for people who don't like to put much makeup on their eyes and face but still want to have something that pops. You can simply get Russian-volume lash extensions and pair them with icy pink lips and you are good to party.
All Red Everything
If you are someone who enjoys a monochromatic style why not do it with your makeup too. Find an eyeshadow as well as a lipstick that are the same or similar shades. The best way to top off your look is to match it with a red outfit.
Subtle Rhinestone Look
Sometimes you are not ready to pull off a full-blow glitter look and that is completely fine. But that doesn't mean that you shouldn't put shiny things on your face. You can simply put a couple of rhinestones that will make your whole look pop. Pick the stones that are different sizes so every single one catches the light in a different way.
Gold-Rimmed Red Lips
If the basic red lip is not enough for your party to look, the best way to spice it up is by lining your lips with a golden lip liner. You can pair the look with a simple neutral eye look so the main focus stays on the lips.
Keep in mind that all the makeup looks can be combined with anything that you want. Makeup is a form of art, therefore you have the freedom to experiment and create amazing looks by combining and playing with ideas.