Bluehost vs BigRock: Our Experience with both BigRock & Bluehost
Page Visited: 467
Read Time:
6 Minute, 16 Second
You have just got the domain name you have always wanted and are well ahead in your website design. The next step? Diving into the seemingly intimidating world of web hosting. Whoever wants to have their own website probably knows what web hosting is. But there are many still wondering –what is web hosting? and which is the best web hosting services amount Bluehost vs Bigrock?
The Mechanics of Web Hosting
Just like we rent or buy apartments or houses to live in, the websites also need a renting space on the internet to function. Web hosting, therefore, is the process where an individual makes their website accessible to the internet. It is made possible by purchasing hosting plans from the best web hosting companies.
Admittedly, you can only decide which are the best web hosting services after you have used them. But when it comes to platforms like Bluehost and BigRock, one can't go wrong with those, no matter how much knowledge you have about hosting services. These two have been considered to be some of the best hosting platforms. If you want to know which is better – read our first-hand review!
Bluehost VS BigRock
Before we start the web hosting comparison, let us understand how the two platforms work and their many features.
Bluehost
Most people's go-to hosting platform is Bluehost, especially for those who have their website on WordPress. This beloved hosting solutions company was founded in 2003 and is managed by Endurance International Group. Bluehost has backed up more than five million websites globally, and the number keeps increasing daily. But why is Bluehost one of the best web hosting services?
Different Hosting Plans: Bluehost offers several hosting plans, where you can choose the one that fits your needs. The broad categories are –
Shared Hosting
Dedicated hosting
VPS hosting

WordPress Hosting: As mentioned earlier, Bluehost is closely related to WordPress. But thanks to being one of the best web hosting companies, it doesn't just stop at that. It provides different types of WordPress hosting plans, including Shared WordPress, Managed WordPress and WooCommerce hosting – all of which are as dynamic as they are reliable. You get many features to play with, including automatic installation and updates, secure login details and Free SSL Certificate.
Fast and efficient: Bluehost claims to provide great online exposure and high SEO ranking. Not just that! It also comes with a smart interface that lets you make changes – no matter how big or small – within a moment. You can utilize its efficiency to pull more traffic to your website and extract monetary gain from it.
Ease of use: If you perform a thorough web hosting comparison, Bluehost is a breeze to navigate. With easy, one-click installation, users can load up the platform in a matter of seconds. What's more, it also provides an interactive Control Panel of easy features, including intuitive control of Shared hosting and management of your website, among others.
Our experience
A couple of my earlier clients whose websites I built with wordpress, used Bluehost for hosting their website. They are happy to date with the service they got from Bluehost. Bluehost's ease of use and security are a couple of strong points my clients liked. The support is also good and prompt. They never faced any downtime till now, The only issue they have is Bluehost does not manage backups properly, we as users have to keep a backup with us in case something happens.
BigRock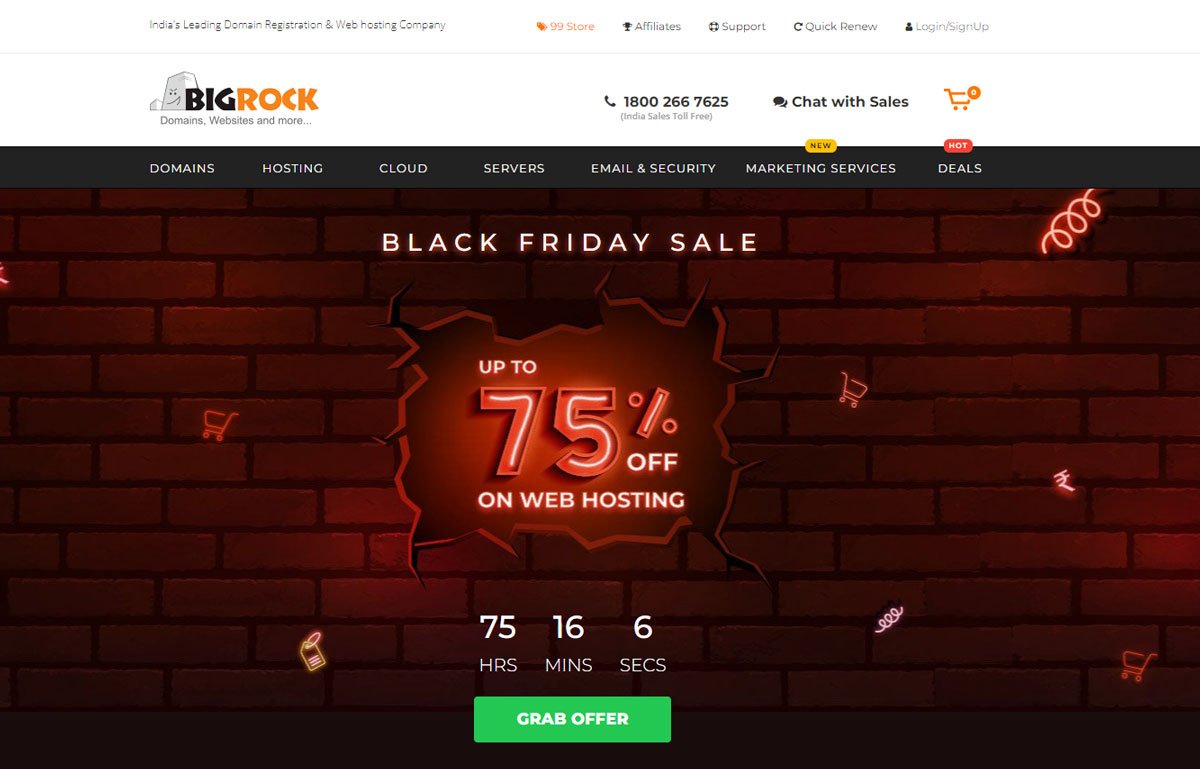 Another one of the best web hosting companies is undoubtedly BigRock. Bigrock was founded almost a decade later – in 2010 – but has shot to the top rather quickly. It has a specific niche audience; it provides its platform for entrepreneurs. In a nutshell, it is very inexpensive, has extra marketing features and offers a highly interactive user experience. Observing the way it is preferred by more than six million websites, BigRock's features are more than enough for your hosting needs.
Affordable Hosting Plans: If you consider the Bluehost VS BigRock debate, the latter is affordable and provides customization for your chosen plans. If you want to build your web store, your eCommerce choices range from Joomla and Drupal to WordPress. Unlimited storage and highspeed bandwidth are just two of the many staple features of BigRock's plans.
Versatile Payment Ways: Don't have PayPal? You don't have to worry – BigRock's got you covered! The platform offers many payment windows, including PayPal and Bitcoin, as well as cash payments, net banking and online transfers. What's more, all the transactions are protected with 128-bit encryption.
Commendable 24/7 Support: BigRock boasts the best customer support, even among the best web hosting services. And why won't it? The technical support team is top-notch, always providing the right solutions to your queries. The team is professional and alert 24/7. You can reach out to them through phone and video calls, live chats and emails.
Higher SEO Ranking: This feature is a must for any web hosting service. However, BigRock provides a 99.9% uptime guarantee. That means if you go for this platform, there is a concrete chance of users noticing your site without you going the extra mile. This, in turn, also helps in turning in traffic, leading to more chances of sales.
Our experience
I own a Cloud hosting (Advanced SSD) with bigrock for the past 4 years. I have hosted 2 websites, one is e-commerce and the other is a business website. The E-commerce site has moderate traffic and the business website has low traffic. The cloud is quite affordable and I got a free domain with cloud hosting. I have never faced downtime due to server issues. The support is good, but they are not very technical. One of the things I really hate is they give heavy discounts for the first-time buyer but after that, you will get a very low discount t renewal. This is not only with bigrock but most of the hosting companies do this.
Bluehost vs BigRock side-by-side comparison
Company
Bluehost
BigRock
Popular and used globally
Popular and used globally
Pricing
– Affordable; offers maximum discounts and coupon codes.
– 30-day money-back policy
– Inexpensive; offers discounts and coupon codes.
– 30-day money-back policy
Hosting Plans
Starter, Pro and Business
Starter, Advanced, Pro, and Business
Features
– Offers additional features in addition to the usual.
– Does not provide a free website builder.
– Comes with the usual features.
– Provides DIY website builder (available in Website Builder Plan)
Performance
– 99.9% uptime guarantee.
– Supports many coding languages
– Digital Marketing Tools.
– Efficient Control Panel and Secure FTP access.
– 99.9% uptime guarantee.
– Supports all programming languages.
– Digital Marketing Tools.
– Easy to use, intuitive interface.
Speed and reliability
In-house, efficient servers; free backups.
Secure Servers; manual data backups.
Customer Support
24/7 Support – Live Chat, Call and Email
24/7 Support – Live Chat, Call and Email
Which one is better – Bluehost VS BigRock?
Everyone's website needs are different – a plan suitable for an entrepreneur won't be favourable for a baker's website. That is precisely why there is no right or wrong in a web hosting comparison. You may prefer Bluehost over BigRock – and vice versa. However, through an objective lens, Bluehost clearly takes the cake. It comparatively offers more features, has great hosting plans and is cheaper.
So what would you think is the best web hosting company that provides the best web hosting services? Let us know in the comment