What are the 6 Levels of Vehicle Autonomy?
Page Visited: 2451
Read Time:
4 Minute, 43 Second
As we are moving ahead in the automobile industry, more and more cars are having some kind of automation. We are seeing level 1 and 2 autonomous driving vehicles on the roads today. Like Tesla is having level 2 automation. Mahindra XUV 700 and MG Astor have ADAS which is Level 2 automation. MG Gloster is having level 1 automation. There are 6 levels of vehicle automation. These automation levels are being classified by the SAE (Society of automation engineers).
Let's understand what are the levels of vehicle automation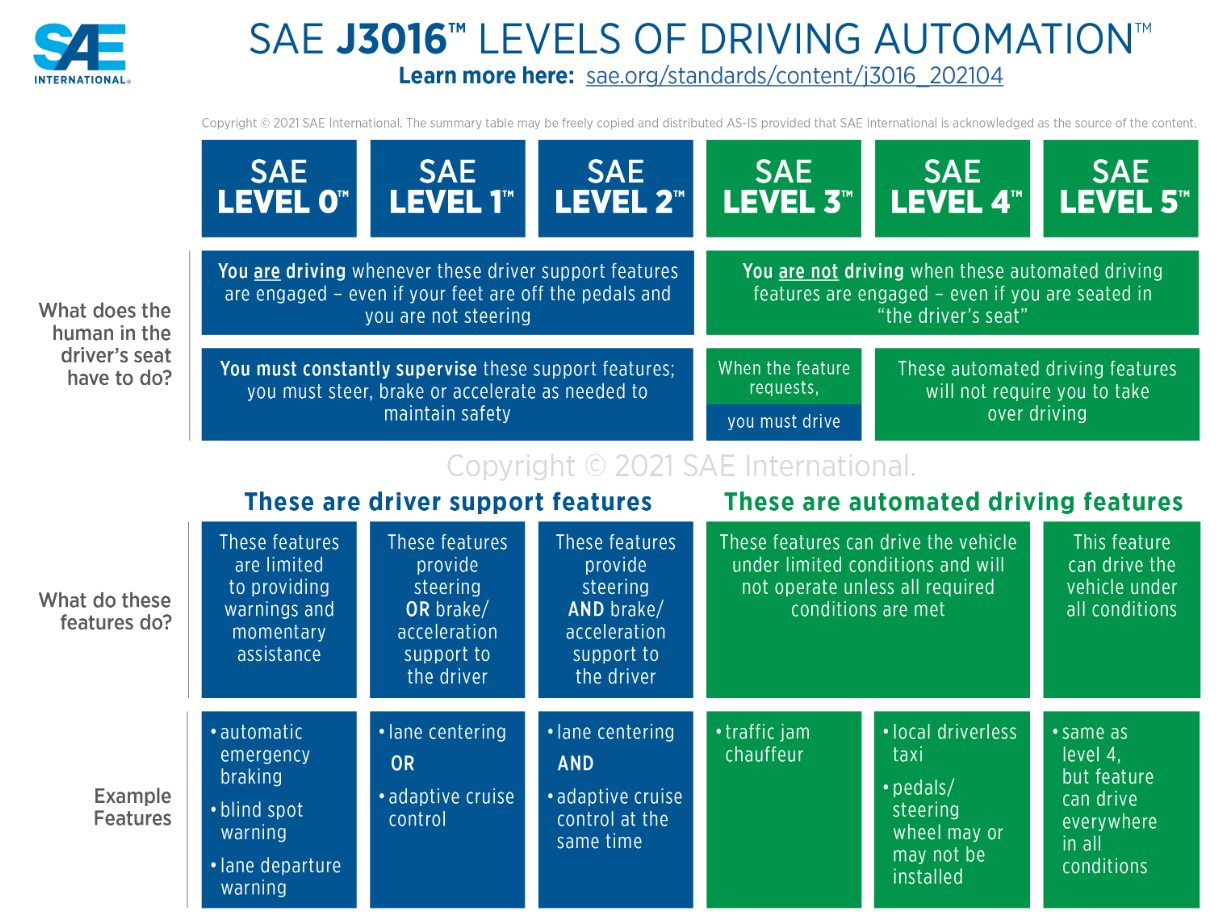 Level 0: No Automation
This level has zero automation, and it is completely driven by humans, as of most the cars on the road today.
You might have features like parking sensors, reverse cameras, collision warning and cruise control, but cars cannot do anything without human intervention.
At this level, the vehicle cannot perform any lateral(steering) or longitudinal (acceleration and braking) action without human input.
None of these features is automated, human has to be alert other the car will crash.
Level 1 vehicle autonomy: Driver Assistance
This level includes features like Adaptive cruise control, automatic park assist, lane assist, and emergency braking.
Adaptive Cruise Control lets you control the acceleration and braking, you can set the speed in cruise control and take off your feet of the pedal. The vehicle will accelerate or brake depending on the vehicle in the front.
Park assist will help you park in tight spots. In this scenario, the car will take care of the steering and the human will control the speed.
The vehicle can only perform either lateral or longitudinal action, not both at the same time.
At this level, both the vehicle and human play a part in improving overall safety on the road, though a human has to be alert all the time.
Level 2 vehicle autonomy: Partial Automation
At this level, the vehicle can perform lateral and longitudinal action together, unlike the previous level.
ADAS (Advanced driving assistance system), includes various safety features. Like Lane departure warning & Lane keep assist, Traffic sign Recognition, Automatic Emergency Braking, Pedestrian detection/avoidance, adaptive lighting, night vision cameras & adaptive cruise control.
These features can be turned on/off, also these safety features will warn the driver if he/she has taken hands off the steering wheel for more than a few seconds.
Though these features will help you keep safe, it is still not a self-driving vehicle and still needs human intervention from time to time.
Level 3 vehicle autonomy: Conditional Automation
Level 3 is a big jump in technology from levels 1 & 2.
This level helps the vehicle drive by itself, the vehicle has an understanding of the surroundings and will make decisions.
Though the driver does not have to keep their hands on the vehicle all the time, the driver has to be ready to take over if the vehicle prompts.
At this level, the vehicle is only able to drive by itself under certain conditions.
Honda Legend has Level 3 autonomy and Mercedes has just introduced S Class and EQS would have level 3 autonomy.
Level 4 vehicle autonomy: High Automation
This is practically self-driving, the vehicle will understand the surroundings and pretty much do everything, the driver doesn't have to intervene.
Though the vehicle will still have a steering wheel and pedals, and if the system has some operational limits it will notify the driver to take over.
Also, you will have a manual override for all the systems and you can drive it by yourself.
Waymo has a level 4 driverless vehicle, which operates only in Phoenix metropolitan area. This is also monitored by humans remotely and if some situation comes up where the vehicle is stuck they will help it out.
Waymo One is a cab company that takes people from point A to B without any driver on board.
Though still level 4 autonomous vehicles will not be able to drive everywhere, all the surrounding conditions are not appropriate and need improvements.
Level 5 vehicle autonomy: Full Automation
At level 5 autonomous driving vehicles are completely self-driving, without any human on board
It will not have any steering or pedals on board, and you cannot manually override it to drive it.
Though there are no real-life level 5 autonomous driving vehicles on the road today many companies are testing them. Waymo did develop a completely driverless car in 2015.
Is vehicle automation the future?
It is always better to have a self-driving car because humans are prone to accidents. There are various studies that suggest around 90% of vehicle accidents happen due to human error.
As a person who loves driving, self-driving cars are not something I am fond of. Though we as a human are very bad drivers except few. And these self-driving vehicles will help us not in terms of safety but also in many ways.
These self-driving cars will avoid idiots on the road and you can have peace of mind while commuting from point A to B.
Self-driving vehicles are at least a decade away from getting into our daily lives. Because we need good roads and proper road signs everywhere that will help self-driving vehicles.
Yes, I believe vehicle automation is the future, but we will still have human drivers around for private cars, but for all the public transport autonomous vehicles will be used, probably in 2 decades.
Hope you understood all the levels of vehicle automation if you have any questions or comments please drop them below.