5 Ways Mobile Apps Development Is Revolutionizing Healthcare
Page Visited: 4006
Read Time:
4 Minute, 36 Second
Mobile apps have played a crucial role in transforming several different industries. The medical sector is one such field that has drastically improved due to the development and implementation of new strategic mobile apps. Healthcare app development encourages all medical professionals, including doctors, nurses, pharmacists, etc. to deliver the most critical care to the patients. The top mobile app development company in India has helped build mobile apps responsible for conserving resources, such as time, money, thus improving efficiency.
Before exploring how custom mobile apps can positively profit the healthcare industry, let's first check out the different types of mobile health apps that have become a crucial life-saving instrument:
1. Healthcare Professional Apps
The targeted users of such apps are the patients and medical personnel, aiding them in managing patient data, appointments, past health records, etc.
The key features of a doctor/patient app are:
Displaying doctors' profiles, showcasing their qualifications, expertise, availability, location, as well as the reviews and ratings of the past patients.
Scheduling appointments, reminders, cancel appointments, predict the expected patient queue.
The patient dashboard displays an overview of the patient's diagnosis history, lab results, prior treatments, prescriptions, allergies, complications, etc.
2. Communication Apps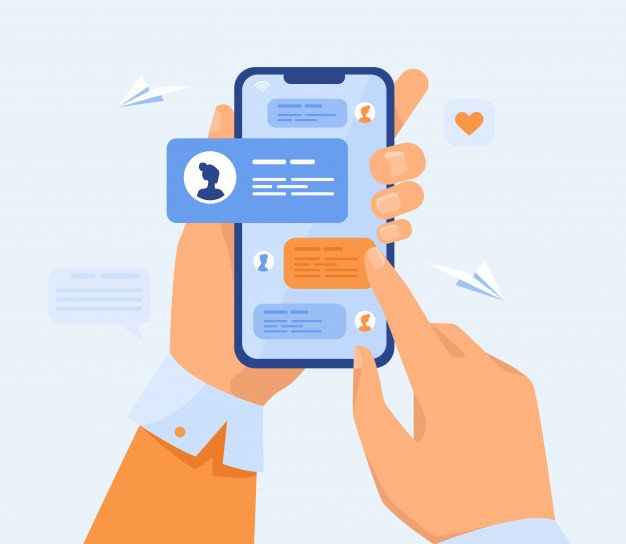 These apps can be used to communicate internally amongst the healthcare professionals or between the clinic and the patients.
The key features are:
Send physicians and attendants Lab results.
Maintaining and updating the Electronic Health Records(EHR) in real-time.
Ensure data privacy through "self-destruction" of HIPAA compliant texts, photos, etc. after 60 seconds.
Often includes a pill reminder option to ensure the patients adhere to treatment schedules.
3. Risk Assessment Apps:
These apps include Electronic Health Records (EHR) and assess data from wearable devices, thus monitoring patients' health conditions, such as heart rate, pulse, temperature, anaphylactic reaction, etc. in real-time. This plays a crucial role in not only identifying patients at risk but also predicting undetected symptoms or ailment.
The key features are:
Estimate the chances of enduring a cardiac event by monitoring vitals as well as diet and exercise routine.
In case of emergency, alert family members and registered physicians.
Send alerts in case of low glucose level, imminent stroke, etc.
Benefits of Health Mobile Apps
The following are the top mobile app approaches revolutionizing healthcare industries:
1. Medical Data Retention
With easy access to smartphones, medical professionals can quickly check out mobile health apps to retrieve medical data concerning the patient's malady update, prescriptions, and reports, etc. Moreover, with all the requisite data being uploaded in one place also helps healthcare providers to quickly analyze a patient's medical history and make swift and appropriate decisions, buying time that could be crucial to saving the patient's life.
2. Remote Healthcare
Mobile apps can act as a modem to accurately deliver medical assistance to remote patients. It enables two-way communication between the patients and the doctors, allowing easy access to information from anywhere. Whether the patient is incapable of visiting the hospital or requires baseline assistance, they can easily schedule a virtual medical examination. Moreover, simple needs such as to request prescription refills, making payments, scheduling a consultation, etc. can all be done remotely through the health app.
3. Reduced Wait Time
Extended wait time can often be fatal for patients. To reduce the wait time, most hospitals are now resorting to mobile apps. These apps provide an accurate wait time for patients and paramedics to decide which ER is available. This not only enables the patient to receive the necessary care faster but also reduces the burden on ER staff, allowing them to work more efficiently and identify any complications that otherwise may have remained undetected. Moreover, in the case of non-life-threatening ailments, patients can remotely check-in and stay at home until their turn, reducing the overcrowding of ER.
4. Disease-Specific App
Even with significant headway in the medical field, certain diseases, such as Alzheimer's and Heart Attack, are leading causes of death. However, the top healthcare and medical app development companies have created mobile apps that help physicians collect data and offer treatment to those suffering from the illness. Healthcare mobile apps could help prevent and slow the effects of dementia, assisting the patients to become less agitated and stay in their residences longer. Whereas, in the case of heart patients, cardiac apps can monitor blood pressure, pulse rate, cardio-vascular activities, etc. Moreover, such apps can help identify underlying symptoms and keep track of the patient's well-being.
5. Educational Apps
Educational apps can help health workers deliver better care to their patients. These apps include a vast range of standard as well as rare medical information, retrievable with a single search, reducing the time spent by practitioners looking for specific knowledge through heavy textbooks. In addition to doctors, the patents also profit through medical news, extensive drug & disease data, expert opinions, and numerous other resources to live a healthy life.
Conclusion
Each healthcare department, whether it is the medical practitioners, pharmaceutical agencies, pathology, and screening labs, etc. benefits extensively by embracing mobile healthcare apps in their routine activities. Moreover, in the time of an ongoing pandemic, remotely catering to the patients' needs whenever possible is a responsible approach. To contribute to patients' well-being and streamlining medical services, the healthcare industry must bridge the gap in conventional healthcare solutions through process automation. To create the ideal custom mobile applications, opt for the right mobile app development company or an iPhone/Android app developer that best fits your requirements.