Captivating Waste-to-Energy Technologies: Paving the Way for a Greener Future
Page Visited: 1071
Read Time:
6 Minute, 13 Second
In a world grappling with mounting waste and dwindling energy resources, waste-to-energy technologies have emerged as a beacon of hope. These ground-breaking innovations in waste-to-energy technologies not only help manage and reduce waste but also transform it into a valuable source of renewable energy. By harnessing the power of waste, these technologies offer a promising pathway towards a sustainable and circular economy while addressing pressing environmental concerns. Join us on an exciting journey as we explore the latest advancements in waste-to-energy technologies and delve into astounding statistics surrounding this thriving sector.
Statistics on Waste Generation: A Global Challenge Calling for Action
Waste generation is a pressing global issue that demands immediate attention. The global municipal solid waste generation is expected to skyrocket to 3.40 billion tons by 2050 according to the World Bank, which is a significant increase from 2.01 billion tons in 2016. These rapid increases in waste, including the disposal of unrecyclable waste at landfills which contribute to greenhouse gas emissions as well as environmental degradation, pose significant challenges for waste management systems. However, waste-to-energy technologies provide a viable alternative by converting waste into clean energy.
Incineration: Unveiling the Power of Traditional Waste-to-Energy Technology
One of the most widely adopted waste-to-energy technologies is incineration. By subjecting waste to high temperatures ranging from 850 to 1,200 degrees Celsius, incineration involves the combustion of waste. The resulting heat is then utilized to produce steam, driving a turbine to generate electricity. Incineration not only reduces the volume of waste but also generates renewable energy. The Global Waste-to-Energy Market Analysis and Forecast predicts that the waste-to-energy market is poised to reach a value of $42.74 billion by 2023, with incineration playing a pivotal role in this remarkable growth.
Advanced Waste-to-Energy Technologies: Unlocking New Horizons
1. Gasification: Unleashing the Potential of Waste Conversion
Gasification, a cutting-edge waste-to-energy technology, entails converting waste into synthetic gas (syngas) by subjecting it to high temperatures in the absence of oxygen. These syngas can then be utilized to generate electricity or produce biofuels. Gasification offers enhanced efficiency and lower emissions compared to traditional incineration processes. It allows for the extraction of valuable energy from waste while minimizing environmental impact.
2. Pyrolysis: A Versatile Approach to Waste-to-Energy Conversion
Pyrolysis, another innovative waste-to-energy technology, involves the thermal decomposition of waste in the absence of oxygen. This process yields bio-oil, gas, and char, each with distinct potential applications. Bio-oil can be further processed into transportation fuels, while gas can be used for energy generation. Char, a carbon-rich material, finds utility across various industries. Pyrolysis provides a versatile approach to waste-to-energy conversion and resource recovery.
3. Anaerobic Digestion: Transforming Organic Waste into Valuable Energy
The realm of waste-to-energy technologies encompasses anaerobic digestion, a promising solution for treating organic waste such as food waste and agricultural residues. This process entails the breakdown of organic matter by bacteria in the absence of oxygen, resulting in the production of biogas predominantly composed of methane and carbon dioxide. Biogas can be employed for electricity generation, heating, or as a vehicle fuel. Anaerobic digestion not only reduces greenhouse gas emissions but also offers a sustainable means of managing organic waste.
4 Plasma Gasification
Plasma gasification is an advanced thermal conversion technology that exposes waste to extremely high temperatures in a plasma-arc environment. The intense heat breaks down waste into its constituent elements, resulting in the production of syngas. These syngas can be used to generate electricity or converted into valuable chemicals and fuels. Plasma gasification offers high energy efficiency, minimal emissions, and the potential for treating a wide range of waste types.
5 Hydrothermal Liquefaction
Hydrothermal liquefaction is a thermal conversion process that transforms wet biomass or organic waste into a liquid fuel called bio-oil. This technology subjects the feedstock to high temperature and pressure in the presence of water, facilitating the breakdown of complex organic molecules. The resulting bio-oil can be refined and processed into transportation fuels or used as a valuable chemical feedstock.
6 Chemical Recycling
Chemical recycling, also known as feedstock recycling, focuses on breaking down plastics and other polymers into their basic building blocks. Through various processes such as pyrolysis, depolymerization, or solvolysis, the plastics are converted into valuable chemicals or raw materials that can be used in the production of new plastics or other products. Chemical recycling offers the potential to divert plastic waste from landfills and incineration while promoting a more circular economy.
7 Hybrid Waste-to-Energy Systems
Hybrid waste-to-energy systems integrate multiple technologies to optimize waste conversion and energy production. For example, combining gasification with traditional incineration or pyrolysis can enhance overall efficiency and maximize energy recovery. Hybrid systems can also incorporate complementary technologies such as waste heat recovery, energy storage, or integration with renewable energy sources like solar or wind, resulting in more sustainable and resilient energy solutions.
Innovative Waste-to-Energy Projects: Showcasing the Boundless Possibilities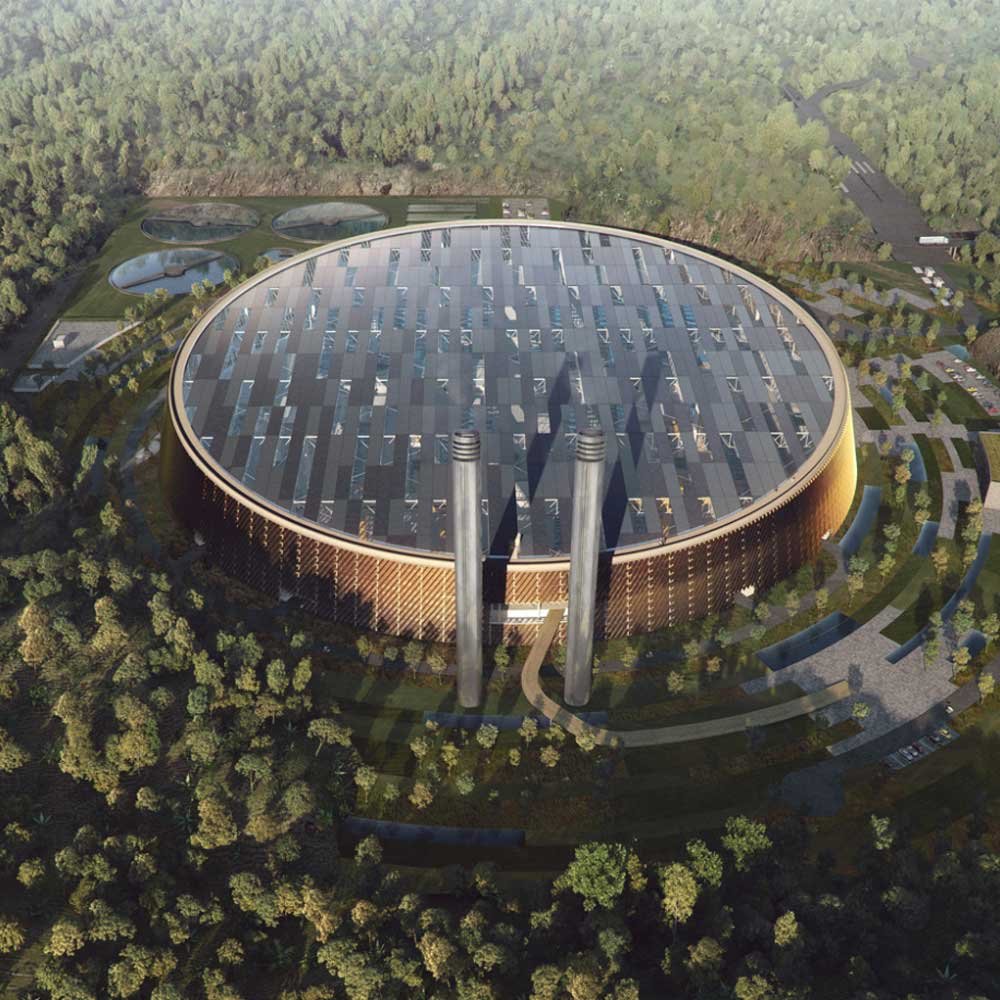 Recent years have witnessed the implementation of numerous ground-breaking innovations in waste-to-energy projects worldwide, showcasing the true potential of these technologies. For instance, the Waste-to-Energy Plant in Shenzhen, China, stands tall as the world's largest facility, it has the capacity of processing over 5000 tons of waste on a daily basis which allows this plant to generate 600 million kWh of electricity every year.
Another notable example is the Amager Bakke Waste-to-Energy Plant in Copenhagen, Denmark. It has a capacity to treat 4 lakhs tons of waste annually. it boasts a unique ski slope on its roof, ingeniously blending waste management and recreational activities. In India there are few waste-to-energy plants but mostly it is failed. Dubai is building the world largest Waste to energy plant which is called DWMC (Dubai Waste Management Centre) and should be ready by 2024. When completed it will convert 45% of all waste into renewable energy
Ongoing Innovations: Pioneering the Future of Waste-to-Energy Technologies
The relentless pursuit of progress drives researchers and engineers to explore and develop new waste-to-energy technologies that enhance efficiency, reduce emissions, and maximize resource recovery. Advanced sorting and separation techniques, such as optical sorting and automated systems, are being implemented to improve the quality of waste streams and optimize the extraction of valuable materials for recycling. Furthermore, the integration of waste-to-energy systems with other renewable energy sources, including solar and wind, is being explored to create hybrid energy solutions that ensure a constant and reliable power supply.
Conclusion: Embracing a Sustainable and Transformative Future
Waste-to-energy technologies offer an enduring and efficient solution to the challenges posed by escalating waste generation and energy demands. These technologies not only contribute to waste management and reduction but also provide a renewable source of energy. With remarkable statistics and ongoing innovations in this sector, waste-to-energy technologies are poised to play a pivotal role in shaping a greener and more sustainable future. By harnessing the power of waste, we can usher in a circular economy that minimizes environmental impact while maximizing resource utilization. Join us on this remarkable journey towards a brighter tomorrow.