5 Healthy Reasons to Be in a Relationship
Page Visited: 3921
Read Time:
5 Minute, 56 Second
When you look at popular culture – movies, TV/Web series, music, and literature – you can't help but notice that they all send us the same message  – that the ultimate goal is to be in a relationship. Besides, when you see that most if not all of your friends are in relationships or married, logically, you ask yourself, "Should I be in a relationship"?
Indeed, this is what most of us want. As humans, we are social beings, and we need to connect with others. We form different important relationships through life. However, there is something special about those that we create with our romantic partners. Being in a healthy and supportive relationship can improve our happiness levels, make our worlds expand, enable us to learn about ourselves, and so on.
Relationship
However, as surprising as it may sound, people don't always have good reasons to be in a relationship. "Wait, what?! How's that even possible?!", you might think. You'd be amazed at how many people get in a relationship with someone only because they want to be loved.
You know, plenty of us weren't lucky enough to be loved by our parents. So when we become adults, we are focused on that special someone who will give us all that much-needed love that we didn't receive as kids. According to Dr Margaret Paul, a relationship expert and author of Inner Bonding: Becoming a Loving Adult to Your Inner Child, this leads to disappointment. The thing is that partners cannot fulfil all of the expectations and compensate for that lack of love.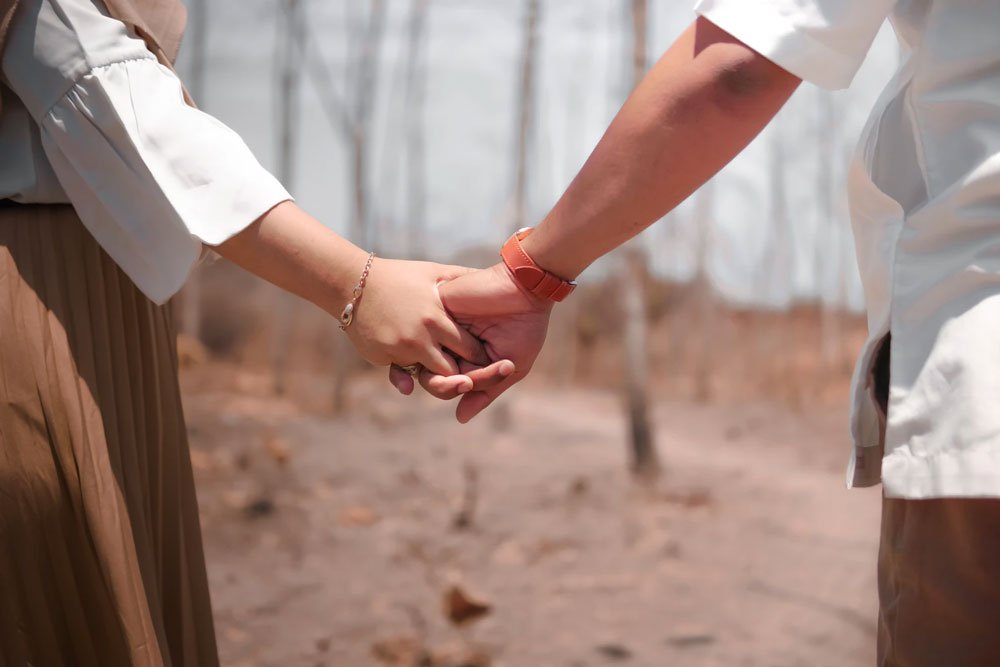 After reading something like this, you might think, "Okay, so then, how to be in a relationship?" Or "If this is not a good reason, what are good reasons to be in a relationship"? If you are asking yourself these questions, then you are in a great place. Being in a relationship requires a lot of commitment and work. And it is not always simple to figure out on your own whether you have the right reasons to be in a relationship.
We were also curious about this topic. So we asked some relationship experts and people who are in a long and healthy relationship for their opinions on if it is good to be in a relationship. We also asked them to give us examples of healthy reasons to be in a relationship. We got much more than we have hoped for, so now we are sharing with you 5 reasons to be in a relationship regardless of whether you met your love on hookup sites or Real life.
Reasons to Be In a Relationship
Sharing Love and Care
You know, focusing only on receiving love and sharing love with your partner are two completely different things. If you are not able to love and appreciate yourself, you can't love someone else. If, however, you feel good about yourself, you are ready to meet someone. When you love yourself, it is much simpler to love someone else as well. It also creates a ton of opportunities for your partner to love you back.
The same stands for care, as well. Caring for someone is splendid when you also care about yourself. Sharing love and care is one of the most beautiful things two people can do for each other, and it brings a lot of joy and fulfilment. To conclude, rather than focusing on what we want to get from our partners, we should focus more on our partners' happiness and well-being.
Support
One of the benefits of being in a relationship is the fact that we can support each other. It is incredible to know that you have someone to share the good and bad things with and to know that you can count on them in every situation. Partners who truly love each other can be that someone. Of course, it is necessary to be able to take care of your feelings. However, it is much easier to go through difficulties when you can share them with your friend and lover.
Whether something upsetting happened at work or you had a heated discussion with your parents or a friend, you feel much better when you tell this to your partner. Besides, you can also get a good insight from someone who loves you, which can help you see what you can do better in the future.  We need to keep in mind that our partners can be there to share bad moments with us and help us cope with them. However, we are still the only ones truly responsible for our feelings.
Becoming Better
We are changing when we are in a relationship. Our partners influence how we see ourselves, the future, and life in general.  It doesn't mean that we shape our partners how we imagine they should be or vice versa. It means that when we are lucky enough to be in a relationship with a loving partner, they are likely to draw attention to both our strengths and weaknesses. They will see the best in us, and they will motivate us to give the maximum. We are also learning from our partners and kind of mimic the things that we admire about them.
For example, let's say that you are not very physically active. You know that it would be good for you to engage in some sport, but you can't get motivated. Then, you fall in love and get in a relationship with someone who goes for a run every morning and takes care of their health. There is a high chance that you will become inspired to get more active as well.
Friendship
The best way to describe what it means to be in a relationship is to say that your partner is also your friend. When you can say this, it means that this woman or man is someone with whom you can do a lot of fun and adventurous things. Your partner is also someone who knows you better than anybody else and who shares your interests.
Wonderful Sexual Relationship
When we are young, we are interested more in dating and having casual sex than being in an actual relationship. It is fun in this period, but later it is becoming kind of tiring. Apart from that, we start to be more aware of the risks it carries. When you are in a loving, committed relationship, you have space to create a sexual relationship, which allows you to have passion, desire, tenderness, and fun.
Conclusion
As you can see, there are plenty of perfectly splendid reasons to be in a relationship. It doesn't, of course, mean that you need to be in one, though. Some people prefer to be alone as well, and this is something that needs to be respected. It is necessary to know that you should start a relationship only when you feel that you met someone special and know that you are ready for it. Do you have some tips for a healthy relationship? Let us know in the comments below.