6 Baby Nursery Essentials Every New Mum Needs to Know About
Page Visited: 1591
Read Time:
4 Minute, 12 Second
Expecting a baby is an exciting and terrifying moment in every new mum's life. Doubts and fears are natural. To minimise your anxiety, you have to be prepared for the newborn. What does that include?
Besides clothes, toys, and other necessities such as nappies and bottles, you must create a nursery for your youngster. When the baby arrives, his or her room needs to be ready and has to have all the essentials. As a new mum, you must not overlook these things.
1. Changing table
In the first year or two, you'll have gone through so many dirty nappies and diapers before your youngster gets potty trained. Before you become a diaper-changing master, make sure you have an adequate changing table.
There's a wide range of different changing tables- with shelves, with drawers, etc. Whatever type of changing table you choose, make sure it has a comfortable mat with a surface that can easily be cleaned. Besides that, opt for the one with raised edges to prevent your baby from rolling off while you search for diapers. That's why organising the changing table is crucial. It's safer and saves you time while mastering the diaper-changing skill.
2. Storage place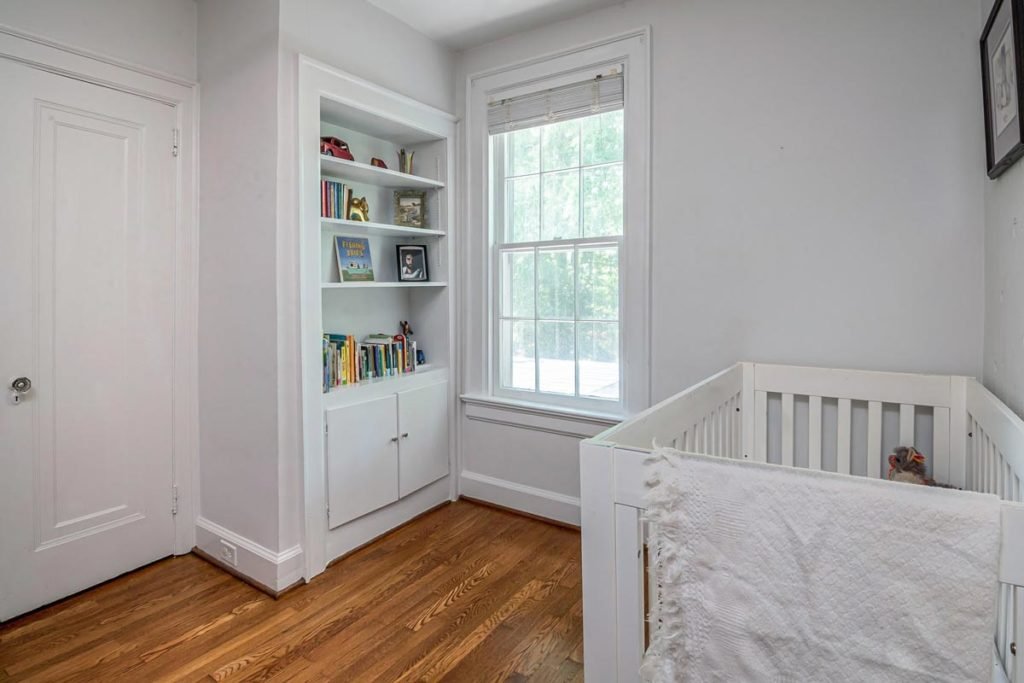 Babies grow faster than we want them to, plus they require a couple of changes during the day. Do you know what does that mean? A lot of clothing, nappies and diapers! In addition to that, they get many plushies and toys as gifts from your friends and relatives. You'll need to store them somewhere, right? That's why having a dresser, and cute storage baskets are a must.
The dresser is a crucial piece of furniture for your youngster. Ensure that it has enough storage place for everything. Keep nappies and bibs in the top drawers, while you can store their tiny socks and other essential things in the lower drawers. Good organisation is the key.
3. Baby monitor
To be honest, you can't watch over your little one every minute during the day and night. That's why having a baby monitor would be a lovely addition to your baby nursery. In theory, you can peacefully watch TV or cook lunch while your youngster is sleeping in the other room.
The reality claims otherwise. New sensitive mothers check up on their children more often than they actually need to. However, they can relax a little bit with the baby monitor. They can hear and or see their little one at any time during the day.
4. Night lights
Night lights can be beneficial for the baby and the parents. They can make night changes and night feeding a lot easier. Additionally, they can prevent tripping and fall over the toys and other items you forgot to put away during the day.
The night light is a nursery must-have, particularly when your child enters the stage of a toddler. Babies aren't afraid of the dark. They've spent months in the womb! However, the fear of darkness is common amongst toddlers and kids; therefore, a night light is a cost-effective investment that will definitely pay off.
5. Bassinets and cribs
One of the most crucial pieces of furniture for the baby nursery is the baby's bed. There are different kinds of cribs and bassinets you can choose from based on your preferences. Also, you should carefully select a mattress for the crib. Why is it so important?
Different kinds of mattresses serve different purposes. But for your youngster's safe and sound sleep, the best option would be a baby cot mattress. It's a convenient yet stable option for the baby's bed. If you want to check different types and sizes of mattresses for your baby, visit website. Cot mattresses usually have a flat and firm surface to provide undisturbed sleep and support for your little one. You can peacefully sleep knowing that your child is intact and secure.  
6. Baby Mobiles
No nursery is complete without the baby mobiles. They can be attached to the crib or moved around the house. Their purpose is to calm and soothe the baby while it's sleeping and entertain it while it's awake. Most mobiles have lullabies and soothing music features, while others come with mirrors, toys and figures.
When implementing a mobile, you need to be aware of the safety tips for mobiles. If not installed properly, they can transform from fun to dangerous in just a couple of seconds. Babies experience the world through the mouth and touches. So, make sure that the mobile is safely attached to the crib, so it doesn't become a potential choking hazard for the youngster.
Conclusion
As you can see, preparing the nursery on time is a must. Don't let the marvellous experience of pregnancy be so stressful due to the horrible organisation. Make sure you have your nursery ready on time. Don't forget to buy and get all the necessities for your baby, so when your little one arrives, you can enjoy the wonders of motherhood peacefully.