10 Gym Wear You must-have in the Wardrobe
Page Visited: 3474
Read Time:
6 Minute, 21 Second
The world of style and sport have rarely been combined. In the past, when working out, people had to choose between practicality and elegance. Sportswear to Gym wear has, however, become a fashion statement in its own right in recent years. Research indicates that if people have the right fitness outfit, they are more likely to begin their workout regime. With that in mind, this is an essential guide for the must-have gym items that you should have in your wardrobe. 
Proper T-shirt
You may think any t-shirt would do a gym workout for you. But, this is not ideal. You have to make sure that you have technical efficiency qualities in the gym top you wear. This will keep you comfortable when you practice. Sweat-wicking fabrics extract moisture from the body so that after a challenging session, you remain drier and more relaxed. 
Moving on, when you pass, a good and proper gym top will not lose its shape and will avoid chafing. Many brands offer a range of technical sports t-shirts made after recycling materials. This way, you get technical qualities such as moisture-wicking, UV protection, and even anti-odour. Consider Apex Fitness, they offer functional, stylish clothing for your training."
Gym Vest
The right gym vest will feel nice and healthy when you work out in the gym. A gym will always be warmer than outside, no matter the season. So daily gym-goers need to have a vest handy even in winter. On the other hand, some tops are good for hot days and summer months. Their high-tech synthetics keep you from feeling overheated and from feeling incredibly light.
It's good to wear something that enhances your physique and makes you feel confident while also being practical and technical.
Sports Bra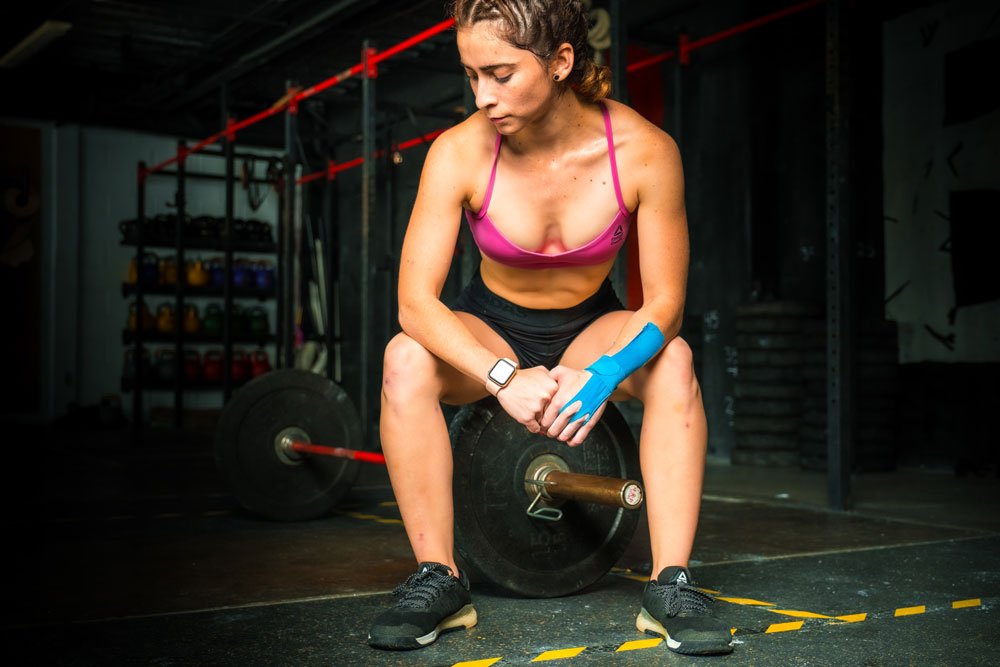 For any sort of workout, a sports bra is an absolute must-have for a woman. A sports bra's racerback design prevents the straps from slipping down as you walk. On the other hand, the supportive cups hold your chest in place and stop any pressure or pain.
Choosing the right sports bra is also very important. Choosing the wrong fit will weaken your breast tissue and will cause your skin to sag. There is three primary sports bra to choose from;
The Compression Bra
This one compresses the breasts against the wall of the chest and is usually suitable for smaller breasts.
The Encapsulation Bra
These types of bras have similarities to everyday bras. It raises the breasts firmly and is suitable for medium to large breasts.
The Combination Bra
The combination bra is best for larger cup sizes due to its supportive elements. This one is a mixture of compression and encapsulation bra.
Comfortable Shoes
You can make or break a workout session with the right exercise shoes. The last thing you want is to worry about overshoes that are too big or suffer from shoes that are too small with numb toes. Also, for your style of exercise, your gym shoes need to have the proper grip and performance characteristics.
It might seem like you need a degree to find the best footwear for your workout. With so much to give, it can be difficult to know which trainers are right for your needs. For frequent trainers, low to moderate exercise is best. For this kind of shoe, Adidas has a huge collection, starting from £ 24.99. Cardio fans should opt for lightweight trainers or flats for racing.
Moreover, these are built for your feet to feel easy and feel slightly lighter than daily trainers. For each workout, you must choose different trainers. If you wear regular trainers for a high-intensity workout, it can result in injury, and vice versa. So, workout footwear is of high value.
Training Socks
When it comes to activewear, the right socks might not always be at the top of your list, but they are essential. Blisters can set back your training. Long training sessions are easy when you are comfortable with your feet. Sports-specific training socks should be sweat-wicking in areas vulnerable to blisters with additional padding or protection.
Many training socks come with mesh ventilation panels at the top. This helps to avoid chafing and blisters from breathing and it cools the sweat on your feet.
Yoga and Running Pants
The holy grail of sportswear is yoga pants. Their elasticity offers constant support, and these affordable garments are extremely flexible. So, they are suitable for workouts such as Pilates or squats. Finding the right pair of yoga and running pants is crucial. You don't want to constantly pull them up while working out.
Running pants are advisable for heavier workouts. In materials and control transpiration, they are lighter. Their breathable and resilient synthetics move more freely along with your body movements, meaning it evaporates faster as you sweat. Stella McCartney's 'Stella sport' line in Topshop has sports savvy lady's workout-chic pants starting from £19 to £60.
Fitness Tracker
With real data and practical knowledge, using a fitness tracker can help you achieve your goals. You will see if you're working hard enough and would be paid with calories burned at the end by monitoring the heart rate during a workout. It will help you achieve your objectives by having an accurate calculation and can be something positive to concentrate on.
Sweatbands
Although many individuals use towels during a workout to wash their bodies down, sweatbands are a perfect alternative. For female exercisers, this traditional 80's accessory is a common option as it is a simple solution to prevent sweat from spreading.
For fast-paced workouts, their lightweight sensation is perfect. They vary in style, colour, and scale, and have become both a fashion statement and a gym requirement.
Gym Bag
You're going to need to put it somewhere for all your new workout clothes. Regular bags can pick up a smell, but a gym bag is made to be odour-resistant. It's helpful if you prepare your gym bag the night before. Therefore, when you're ready and raring to go when it comes time to train and have no excuses to put it on.
To stop giving yourself the chance to find an excuse not to bother, keep your pre-gym routine as easy as possible.
Water Bottle
You lose a lot of water while you're preparing for strength, so it's important to keep yourself moist. Grabbing a reusable bottle by yourself eliminates wasting used plastic bottles and helps to minimize the load in our landfills waiting to decompose.
On the other hand, plastic bottles contain harmful substances. So, it's best to have one which is BPA-free. Many brands offer such water bottles. Make sure you do your research when buying one to keep yourself in good health during a workout.
Conclusion
Stylish and cheap activewear has been offered by high street shops around the city. For your motivation and dedication to working out, the correct workout kit works wonders. It is just as necessary to feel and look good as the workout itself.
Choosing the right sportswear for your needs will eventually help you live a healthy and pleasant lifestyle on your journey. So people, let's work out, but let's do it in style.