10 Best ways to Boost Sales with Content Marketing
Page Visited: 605
Read Time:
10 Minute, 19 Second
Do you want to boost your online business sales? If yes then content marketing can help you boost your sales and achieve this goal.
Content marketing is a crucial part of any digital marketing campaign, with the content you can achieve your business's primary goal which is to boost sales and increase profit.
Today's customers can not be completely satisfied through just ads and billboards they want maximum information about the products and brands before actually making a purchase decision.
Content marketing can help brands do what their customers want from them and in return generates Highest Return on Investment (ROI).
All brands need to do is focus on creating quality, informative, and unique content that contains every aspect of their business that customers want to know.
In this post, we will provide you with the 10 best ways that can help you boost your business sales with content marketing.
So, let's get started!
How Does Content Marketing Boost Online Business Sales?
Content marketing is a digital marketing approach that focuses on creating and publishing relevant, high-quality, and valuable content over multiple online channels and platforms like Facebook and Instagram.
Content marketing drives sales by attracting potential customers as it focuses on expanding the business's customer base.
It helps you generates leads to improve business credibility which eventually results in sales and profit growth.
Content marketing helps businesses to engage the maximum audience and create a loyal customer community which is essential in boosting business sales.
By establishing credibility and reliability with your target audience, Content Marketing increases the likelihood that they will become paying customers.
10 Magical Ways to Boost Online Business Sales with Content Marketing
1) Create Long-Form Content Rather than Standard Blog Posts
Long-form content is considered more captivating than a standard 1000 words blog post this is because customers like to read all-in-one content that answers all their needs and queries.
Customers are not likely to go to multiple posts to know everything they are looking for in your products and services and a standard blog post is not likely the answer to all their concerns.
Long-form content is also great for your SEO ranking this is because Google ranks a site based on the time user spent on that site and this makes about 21% chances to increase traffic compared to a standard blog post.
Long and informative content will help enhance the online visibility of your brand, attract more customers, and automatically boost business sales.
However, long-form content has an inherent risk of becoming too difficult to read. So, you need to make sure that doesn't happen. An easy way to do that is to read your content and paraphrase online any parts that feel hard to read.
2) Create SEO-optimized Content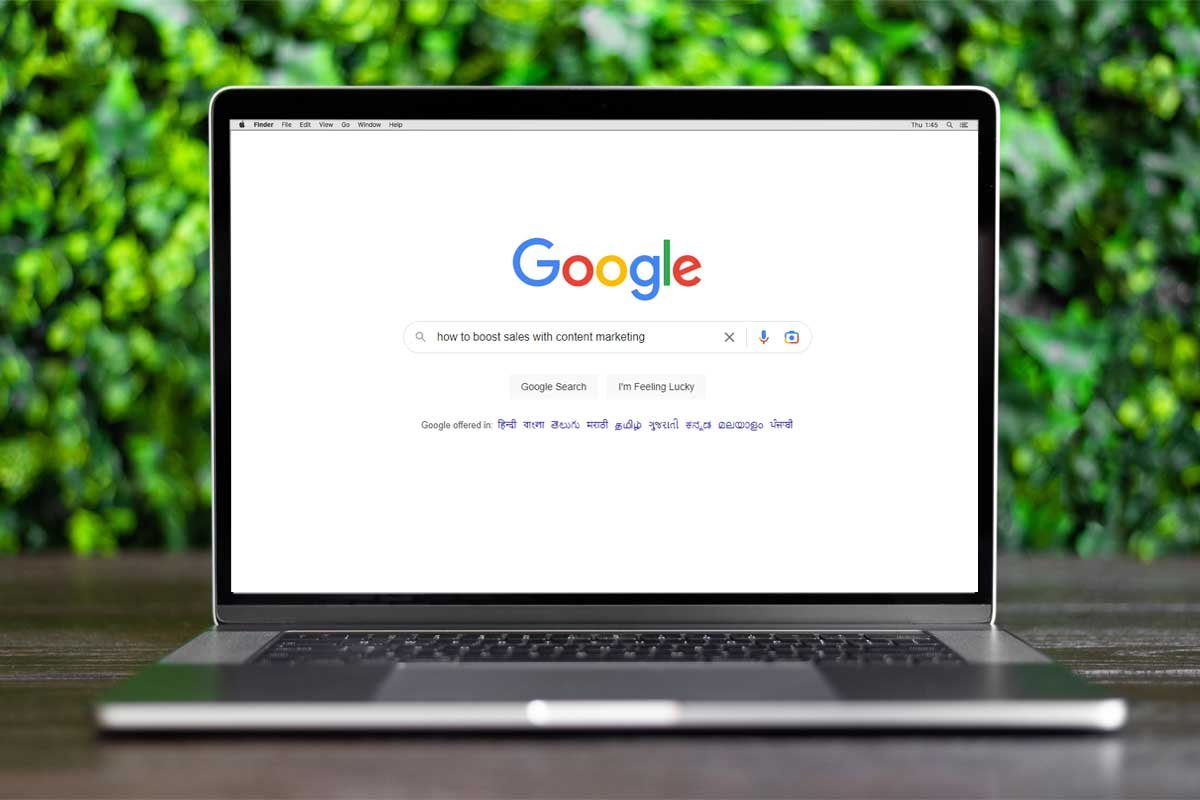 It's crucial to put yourself in the shoes of your target demographic audience while creating content for your content marketing.
But, it's not enough to write content only for your customers, SEO must need to be your priority because a search engine decides what content to display and what to skip therefore, creating SEO-optimized content should be your consideration to boost sales.
However, Google also considers how satisfied users are with a website when ranking it, so your content should be easy to read, and helpful to maximize dwell time and reduce the bounce rate. You can improve the ease of reading by getting help from a sentence rephraser.
You can create SEO-optimized content by ensuring your content has long-tail keywords because customers type queries into a search engine in long-form like 'Best sunscreens for oily skin.'
If your content contains long-tail keywords relevant to your business, a search engine will value your content more and likely display your content as a result of user queries.
Optimizing content for search engines means the content should not contain any direct data from any online source and a part of content marketing is to create consistent and fresh content which is not always ensured by the writers and marketers.
Even brands sometimes use their old content as part of their new content but this is plagiarism, to some percentage Google accepts plagiarized content even if it's from your site.
But if the percentage of your duplicated content is not under Google's plagiarism acceptance percentage, your brand's reputation will be at risk.
To tackle this situation, you can paraphrase online the copied text and use it as a part of your content marketing.
By rephrasing the lines online, you'll get the final results plagiarism-free and you will not be charged for using paraphrased content.
3) Create content that focuses on educating customers
In content marketing, educating the customer is essential. Its primary objective is to inform consumers about the value of your offerings and how they can best put them to use.
Of course, for this strategy to succeed, your customers need to be able to understand what you are saying to them. That is why you have to write your content simply and straightforwardly. So, always proofread your drafts before publishing so that you can paraphrase online any difficult or confusing parts.
As a result of the strategy's increased emphasis on the consumer, both relationships and loyalty improve. If you provide value to your customers without expecting anything in return, they will respect you more.
Due to the trust established with the consumer, the number of returning customers and new recommendations both increase.
Additionally, your customers will perceive your brand as an authentic one in the industry, giving them confidence that your products and services will fully meet their expectations.
This way brands can boost their online business sales to an unexpected level.
4) Content that is engaging for customers
Content marketing relies heavily on customer engagement. However, publishing your content is not the final step.
The best way to connect with your target audience is to actively participate on the platforms where you provide this content.
This can be done in a variety of ways, including by providing serious or humorous answers to their inquiries or explanations.
Customers will be more interested in your content if it helps them solve an issue they've been having. To facilitate them your content must be informative, yet simple enough that there is no room for confusion. You can ensure that your message is conveyed properly with the help of a sentence rephraser as it can make your sentences easier to read, without changing their meaning.
Customers will be drawn to your content, brand, and products if it helps them solve problems.
The final result is a devoted customer base who knows they can count on you for advice and assistance whenever they need it. As a result, your sales and conversion rates will increase instantly.
5) Create content that provides accurate information
The purpose of content marketing is to establish credibility and loyalty in your customers through online channels like social media and blogs. 
And to establish credibility among your customers you have to provide them with accurate and useful information not just copy your existing content and paste it to inform customers about your new product.
Make sure every content you publish on any online channel should be fresh and provides accurate information with this way your audience will provide immense value to your content and become your paying customers which will boost your sales growth.
6) Frequently update old content
Your content marketing should not just limit to creating fresh content and publishing them, you should also update the old content lying on your business site or any social media platform.
Updating your old content has great chances to boost customer engagement this is because if a customer ends up on the old content that you wrote for any of your old products, the customer can think of buying that product based on how fresh the content sounds and your sales can boost.
This is where updating old content can help, you can use a sentence rephraser to reword old or broken content or even give some sentences a fresh look.
Maybe when you wrote that old content some of the sentences were left broken or incomplete, and maybe there were some grammatical mistakes that you forget to fix.
7) Use visuals in the content
We know how important content is to attract customers but plain boring content is not what we meant. The content you publish for your brand must include relevant visuals like images, videos, and tutorials.
Visuals help customers interact better with the provided content because visuals are more appealing and can directly influence readers' minds.
Suppose, your content is about your new launch of a moisturizer, you mentioned all the ingredients, formulas, and how to use it, this is great but what it is lacking is images of the actual product being discussed.
If you include images of the product along with a short video about how to use it, your audience can understand better and hit the 'Add to cart.'
So, give visuals equal importance as they also help with your content SEO optimization because Google values relevant visuals inside the content.
8) Encourage user-generated content
The concept of user-generated content is simpler than it seems and can help in increasing your business's sales and revenue so make it a part of your content marketing.
All you need to do is incorporate material that promotes your business that was created by your audience members rather than by your brand itself like reviews, comments, and other such items.
Reviews and remarks from other users are highly valued by the majority of customers.
Customers are more likely to put their faith in your products and services when they hear from a fellow customer who has had a positive experience with them that they will also enjoy using your products and services. That's why it's important to encourage and incorporate user-generated content.
9) Make use of different online platforms
For successful content marketing, your content must go on multiple online platforms because your customers don't only visit your site they will look for your social media pages and your brand's reputation on different social media platforms.
You can get your products seen by more people and get more feedback on them if you share them across multiple social media sites.
However, deciding the right social media channel for the right content is crucial and needs your attention.
Like, there is a wide range of content that performs best on each of these channels. TikTok, for one, relies heavily on video content to attract users. On a social media site like TikTok, a blog article would not be effective.
And platforms like Pinterest and Instagram are best for uploading aesthetic images and videos of products with short tutorials.
You should therefore disseminate content that is relevant to the topic at hand. By understanding the specifics of how each platform interacts, you may increase your sales.
10) Don't write content for hard selling
Last but not least, pushy content is a big no, even while you want to attract new customers through content marketing, you don't want to come out as pushy or sales-oriented.
If your content just revolves around your products and services and how good they are, it is possible that not all customers love such content and this can affect your sales.
Write more than just your products to convey a hard-selling message, addresses customers' values, and how they can benefit from your products.
To avoid hard-selling words in your content, create dedicated product pages that may be used to display product details, pricing, and purchase alternatives.
Conclusion
Content marketing has the potential to be a very potent method of increasing both website traffic and, ultimately, business revenue. It's a great way to get feedback from customers and use that data to improve your products and retain your core audience.
The success of your content marketing can be ensured only if the content you create is great and according to your user intent.
In the above sections, we discussed the 10 tips you can use to boost sales through effective content marketing.