Top 5 Premium Features Android Apps for Every User Must use
Page Visited: 227
Read Time:
3 Minute, 47 Second
We all use apps for our Android phones. But some apps have paid options which limit the usage of the app, Like Youtube, and Netflix. We are also annoyed by ads on the websites we visit. So here is our recommendation of 5 premium features of Android apps that will make your life similar.
1. Pikashow
Pikashow App is a free streaming platform for Android. where you can enjoy Movies, series & Live TV.
To download the application search on Google – Pikashow APK download – download the APK from the official website and install it.
There are 4 options available when you open the Application.
Bollywood
Hollywood
Series
Live TV
So you can click on the options available or you can search by typing the name of the movie or series you want to watch. Also, you download movies/ series from the App. To download the movie you need to have an extension for that. The Pikashow App will guide you on when to download for the first time.
Each time you see or download the movie first you have to see the ads then you can download or watch the movie.
2. Vanced
Vanced also called Youtube Vanced is an advanced version of Youtube for Android.
To download the Application just type in Google – Youtube Vanced APK Download and download the APK from the site and install it. After that, you are ready to use Youtube's premium features for free.
The Interface is quite similar to Youtube. Let's see some advantages of this app.
Ad Blocker – With my experience using. There are no ads in between video songs.
Background Player – Songs can be played in the background when minimizing the App just like youtube premium.
After the screen lock every time you open Vacned App You will see ads but in between songs no ads.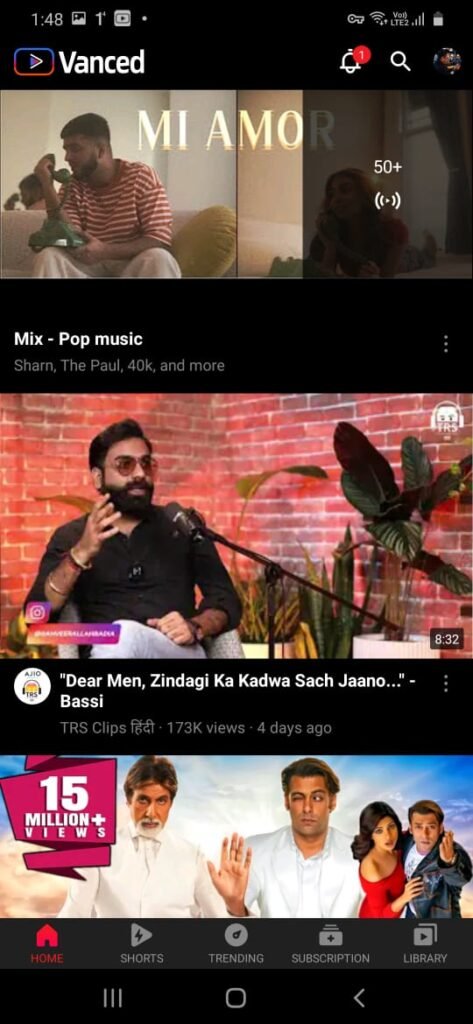 3. Netflix by APKFolks
Netflix by APKFolks is a free version of Netflix where you can watch all new movies or series online.
Download the APK file from Google by typing – Netflix by APKFolks APK download and install it. You will see all movies or series there.
Before watching something you have to download a VPN without VPN you cannot watch anything. So just download any VPN from Play Store and start streaming the latest movies, and series for free.
4. Wifi FTP server
Wifi FTP server is a data-transferring application for Android using USB Cable.
The App is available at the play store.
To transfer data from mobile to PC or from pc to mobile. firstly both devices should be connected with the same wifi.
After that open the Wifi FTP server App – click on start.
Then it will give you a Server URL for eg: ftp://172.10.20.9:1112
Copy that url go to my computer and paste it on my computer url. now you can copy data from mobile to computer
5. Adblock Browser
As with the name Adblock browser, you can understand what this application is about. It is a web browser similar to Chrome, Firefox, or any other web browser.
Download this Application by searching Adblock browser APK download from Playstore
The benefit of this application is whatever you search it may be a web search or listening to songs on youtube etc. there will be no ads in any things. The browser blocks all ads.
Our final recommendation for an Android user bonus app
Secure VPN – Safer Internet
Secure VPN is a free VPN (virtual private network) service. VPN allows users to access the internet privately and securely, even when using public Wi-Fi networks or accessing geographically restricted content.
It is very easy to use, you just have to tap to connect to the best server and it is connected. you can also select the server to which server you wanna connect. 4 county servers are free others are for paid users.
The app is available at the play store you can download it from there.
Conclusion
Hope these 5 premium features of Android apps will help you and you get some benefits out of these apps. We also mentioned one bonus app for VPN, which is a must-use app for everyone. It is recommended that everyone use a VPN to maintain their privacy and watch restricted content. I am using Atlas VPN a paid subscription for the past 5 months now.
Disclaimer: We do not recommend you use the first three apps on the above list, as they are not on the play store and are Cracked apps.