Range Rover Velar Launched
Page Visited: 1453
Read Time:
3 Minute, 58 Second
Range rover launched new model Velar and it sits between Evoque and Range Rover Sport. It is launched at 78.83 lakhs and the top end model is priced at 1.37 Cr. It is mostly built with aluminium which makes it lighter.
Exterior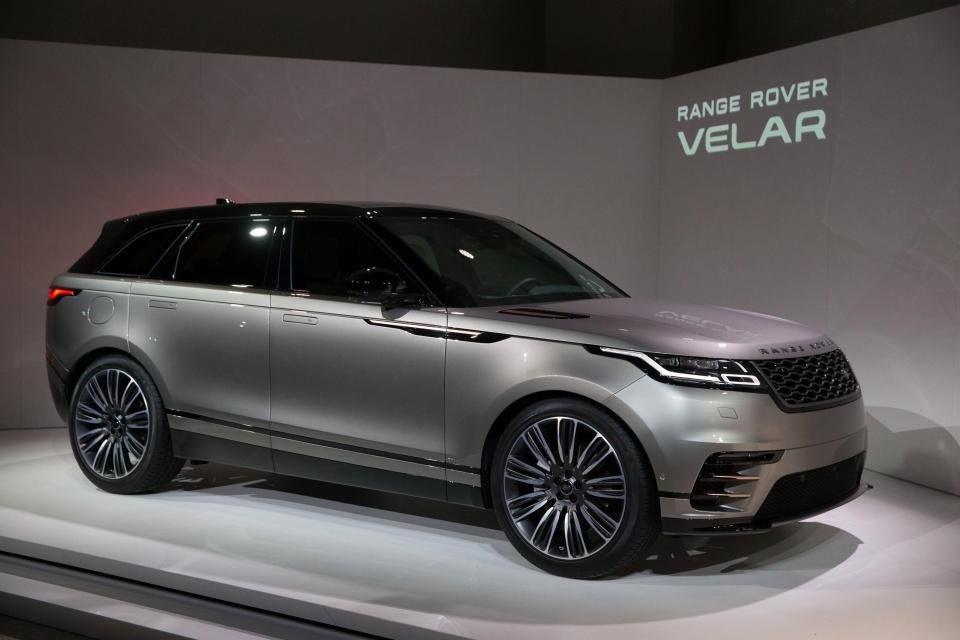 The new SUV features an almost coupe like roofline with a very wide and sporty stance.MEsh Grille, fender vents, rear tow eye cover, surround bonnet and tailgate are all finished in Gloss black giving the vehicle a greater presence.
This Range rover velar has R-dynamic pack which gives this car a distinctive and distinguished exterior to new heights of design elegance. The door handles pops out when you press the unlock button on the handle. The SUV has coupe like roofline with a very wide and sporty stance. The LED headlamps with Laser matrix for high beams just looks stunning. Overall looks from outside is very stylish and the inspiration from Evoque and Range Rover sport has made this car look even beautiful.
It gets 18 inch wheel as default in lower variants, but you can opt for 19 or 20 inch wheel. But with 18 inch wheel ride quality will improve.
Interior
The first thing you would notice is two touchscreens, one for the infotainment and one for functions like climate control. The White and black combination of leather seats looks amazing. The dashboard mounted touchscreen is tilted by 30 degrees and can be adjusted by the driver. The screens are not very friendly to use while driving, because you have to take your eye of the road.
It does not have Apple car play or android auto which is little disappointing. Instead it offers its own app for smart phone connectivity.
The seating position is very good and good visibility is their while driving. But while taking turns your visibility can be obscure. But the rear visibility is really not good because of small rear screen and large rear pillars. It has pretty much everything you would expect from a premium luxury SUV.
Performance
The Velar comes with 6 diesel and petrol engines that meet Euro 6 emissions requirements. It includes the 4 cylinder 2 litre (petrol and diesel) and also the larger six cylinders (again both fuel types). All-wheel drive capability and an 8-speed automatic gearbox are standard, and yes that includes the paddle shifter. The good news is we are getting 3 engines for India – the 2.0 litre D180 diesel and P250 petrol and D300 V6 diesel. The 3 Litre V6 turbocharged diesel engine which churns out 296 bhp and 700 NM of torque at just 1500 rpm. The 2.0 litre petrol engine generates 247 bhp and 365 Nm of torque. The diesel 2.0 litre engine produces 177 bhp and 430 Nm of Torque.
It has 2 version the normal Velar, the R-dynamic. And 3 variants for every model. D180, D180 S, D180 SE, D180 HSE, D180 R-dynamic, D180 R-dynamic S, D180 R-dynamic SE, D180 R-dynamic HSE. Same for Petrol variant also.
Range Rover Velar is road-biased car yet it will do good off roading because that's what Range rover are known for. It has a 650mm wading depth, standard 4 wheel drive, terrain response, and with the optional air suspension – 251 mm of ground clearance. Normally a rear-biased car, the Velar has a chain drive to transfer torque to the front when needed.
It has all the Safety features like 6-airbags with dual stage airbags, ABS, EBD, Brake assist, Hill Descent, ESp, TCS. It has 5 star euro NCAP safety rating.
Variants
Variant
Ex-Showroom Price
D180

Rs

78.83 Lakh*
D180 HSE

Rs

89.93 Lakh*
D180 R-Dynamic

Rs

80.76 Lakh*
D180 R-Dynamic HSE

Rs

91.86 Lakh*
D180 R-Dynamic S

Rs

85.18 Lakh*
D180 R-Dynamic SE

Rs

87.14 Lakh*
D180 S

Rs

83.25 Lakh*
D180 SE

Rs

85.21 Lakh*
D300

Rs

1.11 Cr*
D300 First Edition

Rs

1.38 Cr*
D300 HSE

Rs

1.24 Cr*
D300 R-Dynamic

Rs

1.13 Cr*
D300 R-Dynamic HSE

Rs

1.27 Cr*
D300 R-Dynamic S

Rs

1.18 Cr*
D300 R-Dynamic SE

Rs

1.21 Cr*
D300 S

Rs

1.16 Cr*
D300 SE

Rs

1.18 Cr*
P250

Rs

78.83 Lakh*
P250 HSE

Rs

89.93 Lakh*
P250 R-Dynamic

Rs

80.76 Lakh*
P250 R-Dynamic HSE

Rs

91.86 Lakh*
P250 R-Dynamic S

Rs

85.18 Lakh*
P250 R-Dynamic SE

Rs

87.14 Lakh*
P250 S

Rs

83.25 Lakh*
P250 SE

Rs

85.21 Lakh*
The on Road price varies from 98,66,237 to 1,53,11,093 in Nagpur.