Ferrari revealed its first practical 4-door supercar
Page Visited: 359
Read Time:
3 Minute, 20 Second
Yes, Ferrari has revealed its first production 4-door, it is called Purosangue. I say the first production because there was a 4-door concept by Ferrari in 1980 called Ferrari Pinin, bet you might have not heard about it. Let's talk about Ferrari Purosangue, and why it is a practical 4-door supercar.
Ferrari Purosangue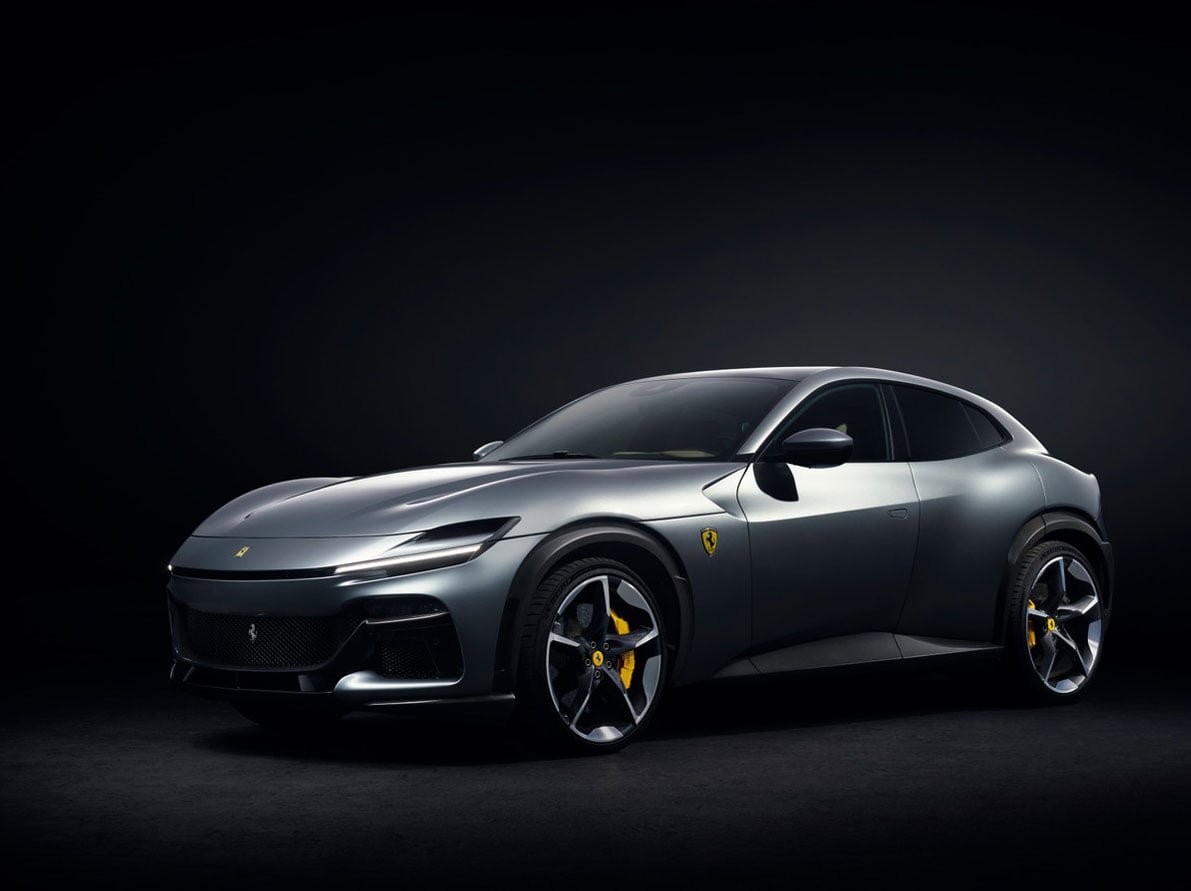 This would look like a move by Ferrari to make profits because now most supercar and luxury car companies are making SUVs, including the Lamborghini Urus, Aston Martin DBX, Bentley Bentayga, Rolls Royce Cullinan, Alfa Romeo Stelvio and Porsche Cayenne, well technically Cayenne was ahead of the trend, so it would not be considered in this list.
It is a pure Ferrari, as the name suggests Purosangue (which means pure blood or thoroughbred in Italian). It is not powered by V8 turbocharged engine nor it has a hybrid system, nor it is an electric car, it is an AWD powered by a naturally aspirated 6.5 litre V12 engine mated with 8-speed DCT transmission, which sounds really good, just like the Ferarri you are used to. The power output is 715 BHP and 716 NM of torque. It has a top speed of 193 mph with a 0-60 time of 3.2 secs. That Naturally aspirated engine for me biggest win for this car.
Ferrari says Purosangue will be limited to only 20% of its lineup for a year (i.e around 2000 units), it is an exclusive car with a price tag of $4,00,000 (around Rs 5 Cr). It is more expensive than Urus, DBX, Cullinan and Bentayga.
Ferrari is not trying to make an SUV. The size of the Ferrari Purosangue is smaller than Urus, DBX, or Cayenne. They are just trying to make a practical Ferrari. Because Ferrari owners didn't have a practical Ferrari to date. So technically it doesn't have a competition. Why it has no competition because it is smaller than other SUVs, it is less practical and it has a naturally aspirated engine. But you can compare Purosangue with Audi RS6 or Porsche Panamera.
Features
The front looks like Ferrari SF90. I really like the overall look of this car, it is one of the best-looking Ferraris or I should say it is one of the best-looking cars.
Ferrari Purosangue has 2 screens, one for the driver, in the instrument cluster and one for the co-passenger. You will not find a screen in the centre, only touch-sensitive buttons and a dial. It has ventilated and message options for all 4 seats. The rear doors are suicide doors or flex doors, which give plenty of space to enter the back seats. It has apple car play and android and auto, and it has a wheelbase of 3,018 mm, larger than the Urus and Cayenne. You also get 4 doors with 4 seats. The boot capacity is 473 litres. And the ground clearance is 185mm, which is good for practicality.
It rides on 22 inches wheel at the front and 23 inches at back. It has all-wheel steering, with the ability to turn each rear wheel separately for better corning. The weight distribution is 49:51, which is great for high speed, as it feels like it pivots around the centre of the car. It has a twin transaxle 8-speed gearbox at the rear, and a separate 2-speed unit at the front, taking the power from the crankshaft. After knowing the performance and features, I think it looks like Ferrari has developed a practical 4-door supercar.
So, it is a practical Ferrari, not a practical SUV like its competition. it is a unique vehicle on its own. Ferrari revealed its first production 4-door car to get into the current hype/trend of SUV, but they didn't want to lose the Ferrari DNA in their car. So they created Purosangue a practical 4-door supercar.
Thanks to Ferrari Website for images and details.