7 Ways to Make Your Business More Sustainable
Page Visited: 3970
Read Time:
5 Minute, 44 Second
Whether you run a small, local business such as a pastry shop, or you have a large-scale medical centre, the people you serve are at the heart of every decision you make. Much like your chefs will come up with new and exciting recipes to keep your customers coming back, your medical professionals will ensure that your services are refined and in line with the latest trends. That is not just for the sake of making sure your business is competitive enough to stay afloat, but also for the sake of establishing a brand reputation of your business in your market.
In light of the climate crisis and our planet being in peril, with numerous species on the verge of extinction and their habitats almost destroyed, your target audience has become aware of yet another factor when choosing brands to trust: your impact on the environment. Everything from your carbon footprint, to your recycling practices and donations, can make all the difference in the world for every customer that chooses you over another business in your industry. The modern customer's loyalty depends heavily on how green you are. To help you make your business more of a positive impact on our world, and grant you that competitive edge, consider the following strategies.
Ditch paper and go digital
Contracts, notes, presentations, and a slew of other printable materials are one of the greatest culprits of paper waste in any business. Luckily, with today's advanced cloud solutions and cybersecurity, you can switch your paper records, accounting processes, and all other to a digital platform. It can safely store your data, and help you eliminate paper use from your business. For some companies, it might be necessary to retain some level of paper use, but then make sure that you have the ability to recycle! 
Make sustainability part of your culture
As a leader, you are the role model for your employees, and you should lead by example in terms of sustainability and green practices. However, you also need to make sure that you hire based on values, not just education and professional fit – this alone will allow you to choose professionals in your industry who share your concern for the environment.
By enabling employee-based ideas to boost sustainability (such as remote work, car-pooling when needed, cycling to work, etc.), you empower your teams to come up with more ways to build your brand around sustainability as one of your core values.
Energy-efficient lighting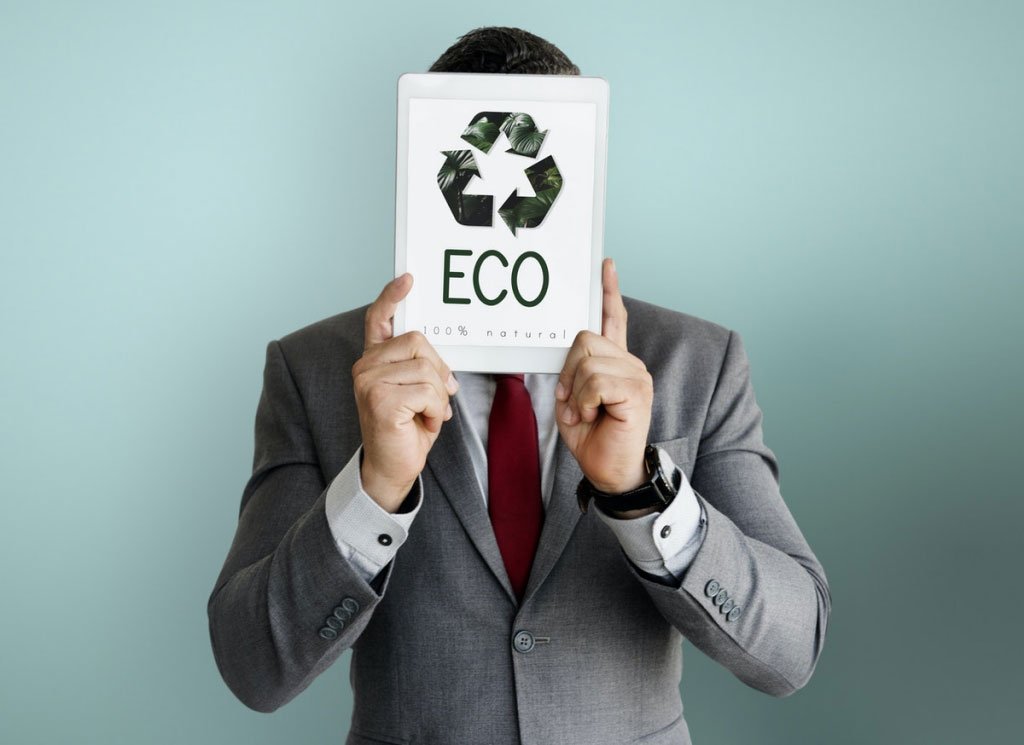 There are industries that require several key factors to be considered before you introduce any changes. Take, for instance, healthcare, as the perfect example of a fast-paced industry that requires medical centres to continuously upgrade their equipment, and with it, their energy-efficiency policies and strategies. Retaining patient comfort is another key variable, so these institutions need to find a strategy that works in favour of the budget, the patient, and the institution.
Since lighting is a vital component of the industry, as well as any other business in existence, LED-based lighting is a go-to sustainable alternative to conventional systems. In fact, this type of lighting allows that energy efficiency, but also reduces overall expenditures due to its longevity, durability, and ensured comfort. You'll find your utility bills lower, your employees and patients more satisfied, and your budget available for other ventures and sustainability initiatives. 
The triple R principle
The inner workings of your business have tons of potential to become greener in time. Sustainability is a mindset that is refined and acquired and not just a single initiative that will run its course. With that in mind, more companies are actually transforming their daily operations to take on an eco-friendlier angle. Take your kitchen, for example.
The triple R refers to recycling, reusing, and reducing, the three steps in everything you do: you can reduce waste by adding composting stations that will then nourish your little office herb and veggie garden. You should certainly recycle everything that's recyclable, and of course, invest in reusable as opposed to single-use items such as plastic cups and the like.
Donating where it matters most
When pure action isn't an option, especially during these trying times amidst a pandemic, what you can certainly do from the comfort of your homes is donate. However, regular donations are a far better way for businesses to redefine their purpose and refine their goals to include more sustainability.
For example, Amour Vert plants a tree with every tree sold, and other brands have similar, versatile green donations and initiatives in place for their business model. You can make sure that a portion of your subscriptions or sales goes to a specific green charity, and let that become another way to contribute.
Team-building through green initiatives
The simplest way to further strengthen your brand culture and its sustainability foundation is by using green team-building activities that get all of your employees involved. Hands-on activities such as planting trees together, cleaning your parks and rivers, and creating a herb garden in your own offices are simple, but brilliant options to bond and make a difference in one go. You can find local organizations that you can join and then take part in their initiatives during the weekends for an even stronger impact in your community.
Opt for renewable energy
For companies that require offices, even if you count no more than a handful of employees, electricity and water are both essential for normal functioning. On one hand, you should always strive to be more energy-efficient over time and save as you move forward, but you should also do your best to completely rebuild the way in which you generate energy, to begin with.
Nowadays, solar panels with inverters are becoming significantly more affordable than in the years of their inception, and they are more prevalent in home and business use than ever before. It's a sizeable investment for a smaller business, but one that will come with manifold benefits for you, your employees, your utility bills, and your brand image.
Leadership in this day and age encompasses so much more than a high-end suit and a powerful handshake. People require substance underneath the sleek visuals and pure marketing, and it's time for many companies to put more effort toward sustainability. As more brands step up to the challenge, this will no longer be an option, but a prerequisite of success, as it will give you the competitive edge you need to not just stand out, but meet those basic customer requirements. No matter the industry you come from, you will need to get creative and transform every aspect of your operations to meet new, more sustainable needs of your niche and your target audience.