New education policy, what are the key points and what's my opinion
Page Visited: 4751
Read Time:
4 Minute, 45 Second
You must have heard about the new education policy which the government announced on 29/07/2020. The government have come up with this new policy after 34 years. Last NEP was in 1986. This new education policy is a revolutionary step by the government and is at par with other developed countries education system.
What is New education Policy?
Below image shows the comparison between the old and the new education system in India. The old system was 10+2, the new education system is 5+3+3+4.
From age 3 to age 8 kids will study preschool to 2nd class. This is a foundational school. From age 8-11 class 3-5 kids will study preparatory school. Age 11-14 class 6-8 will be the middle school. Age 14-18 class 9-12 will be a secondary school.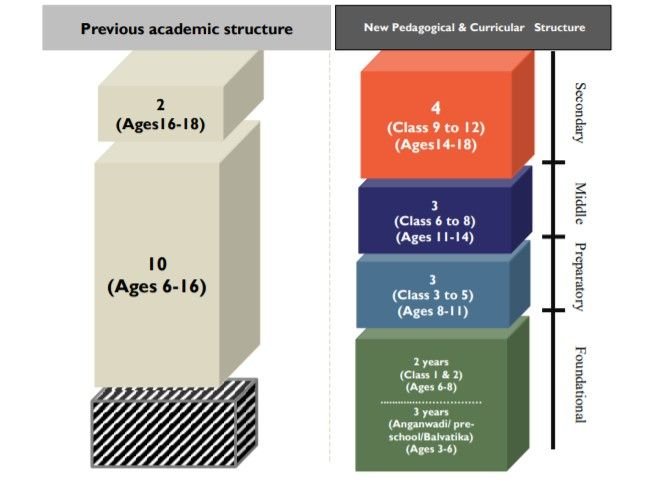 Image courtsey https://img.republicworld.com/
More focus is on vocational education, meaning not only your academic subjects will be considered for evaluation, but also you co-curricular and extra-curricular activities will be considered for evaluation.
Students will have the option to select subjects which they have an interest in. It could coding, painting or any other vocational subjects. A 10 days practical session is going to be introduced.
The board examination pattern will be changed to test analytical and logical skills, rather than just mugging up the topics. This will release a lot of pressure off the students. Also will help kids get ready for real-life situations.
NEP in India as been bought 3 times, first in 1968, then in 1986 and now in 2020. Every few decades we had a change in policy. But the new NEP 2020 is going to bring a revolutionary change into our education system. In 1968 it was brought by Indira, in 1986 it was introduced by Rajiv Gandhi, which was later revised in 1992. And now in 2020 by PM Narendra Modi.
Key points of NEP
Change of Education system from 10+2 to 5+3+3+4
More focus on Vocational education
Government School will offer Preschool (LKG, UKG), which were earlier provided by private schools only
Students till class 5 will have an option of learning in their own mother tongue.
The Government is planning to implement the entire Policy by 2040.
The overall education policy will be monitored by a central board of education.
Your graduation will be more flexible, you can choose any stream subjects and the routine science, commerce and arts streams are removed.
If you complete one year you will get a certificate, when you complete 2 years you will get a diploma and when you complete 3 years you will get a degree and at the completion of the fourth year, you will receive research degree.
You can study one year of BA, the second year of engineering and third year of political science. You credits will be counted for all the 3 years.
Indian Universities can now set up a campus in outside countries, also Top 100 foreign universities can now easily set up their campus in India, with proper laws.
6% of GDP will be given to education, which is currently around 3%
Watch this video for New education policy explanation
Follow this channel for more videos
My View on the new Education policy
Firstly I would say a good move by the government to change the current education system, which needed a change for a long time. Surely this new system has a lot of positives which we have discussed earlier. Let's see what needs to be done from my point of view to make this NEP a success.
First, the implementation would be crucial because changing the complete education system is a difficult task, Though the government has said it would be done by 2040. The implementation should be transparent and no corruption should be there. If the implementation is not proper then this would be a big fail for us.
The medium using which the subjects will be thought should not be just a classroom environment, but more of practical approach which will help kids get industry-ready. This is mentioned in NEP, that students will have an opportunity of internship. Though this should be implemented properly, cause some people are creating misinformation that it will promote child labour, which is wrong. It should be watched that small village and government schools should have this approach or those students will not get equal opportunity.
The option of learning in the mother tongue is a good move, but this will allow small schools in villages and government school opt for the only mother tongue. This will create a few problems, like kids studying in these school will have less exposure to the English language which is a global language. Also, if some kids move from state to state due their parent's job will face issue coping up with the subjects, as the mother tongue of that state would be different from that kid's mother tongue.
Conclusion
Overall this New education policy is a great move by the government and will definitely improve our education and the future generation will have better opportunities, not just engineering and doctor. They can do coding from a young age and be really good at it. He/She can do whatever interest you, become an artist, carpenter, plumber. This will really bring equality in all field of study and also the pay scale. Though this all depends on implementation.
There are a lot more points but I talked about those which I felt needed. Will share updates via articles, as this NEP get implemented. Please comment on what you think about NEP.