7 Top Yoga Trends Popping Up Around the Globe
Page Visited: 658
Read Time:
5 Minute, 55 Second
Yoga is one of the most historic forms of exercise routines ever developed that works on all disciplines of a human being. While the yogic science maybe 5000 years old, time and again, yoga gurus and teachers keep exploring its potential to create innovative variations. Yoga is for everyone and so, it has the potential to offer personalized benefits to each yogi. All you have to do is find the right fit for yourself or the right yoga teacher training and yoga school where you can explore the correct technique behind it. Of course, these styles and techniques are developed while keeping the soul of yoga as it is. People practice yoga for different reasons. Some practice it to enhance their mind's ability, some do it to gain a healthier body, while others want to tap into the untapped potential of the body and spirit such as opening the Kundalini. The core of yoga is to help the body synchronize itself with the mind and spirit and this purpose of yoga should remain unmarred no matter how many styles crop up. And so, in this article, we are discussing some of the top yoga styles that are not only becoming trends across the globe but also resonate with the true purpose of yoga which is to create happier and healthier beings.
What are the best places to study some of these yoga styles?
When it comes to yoga, the authentic study of yoga, India is the place to be. People flock from various locations to study yoga teacher training in India. Within India, there are cities that are the hubs of yogic immersion. You can go with the best yoga school in Rishikesh, Mysuru, Goa, Kerala or Dharamshala to get authentic exposure to various styles of Yoga both contemporary and traditional. These are particularly popular for undergoing Hatha Yoga, Ashtanga Yoga, Kundalini Yoga, and Pranayama Yoga teacher training programs.
Other than India, places like Bali, Thailand, Nepal, and even the USA are famous for being the epicentres of top yoga trends retreat and yoga teacher training programs.
Top Yoga Trends Popping Up Around the Globe
Slackline Yoga
While the name could be new, the technique of this yoga style is fairly old. Remember those days when we used to visit the circus and get stunned by acrobats' performances when they used to walk on a rope to perform different stunts? Well, here you are not going to perform stunts, but the thrill you get after practising this trendy yoga style is pretty much unmatched. If you have not tried rope walking, then perhaps you can skip this one as it needs rope walking skills and should only be practised by advanced-level yogis looking to challenge their skills. The main benefit of this yoga style is to ease the mind and body and to achieve equilibrium. The body regulates stress and centres the mind through a regular practice of this yoga style. This style opens the route to achieving inner peace.
The Aerial Yoga
Much like slackline yoga, aerial yoga is also performed in the air, a few feet above the ground. But the strap width is much wider than the slackline and it can even be a combination of silk ropes. The style is practised by yogis for the purpose of complete relaxation and to instil harmony between the body and mind. While performing this yoga, you would gradually build a better posture, strengthen core muscles, and pretty much, feel like a bird with a better respiratory system.
Yoga for Runners | The Roga
Runners and athletes need to condition the muscles that get overused from high-impact activities while some muscles remain underused that need to be worked up as well. Yoga helps athletes and runners establish a balance between the underused and overused muscles to achieve holistic fitness targeted at enhancing bone and tissue health.
Stand-Up Paddle Yoga
If you are a surfer, then put your surfing skills to the best use or challenge yourself with SUP yoga. This trendy style of yoga is particularly gaining popularity among paddleboarders. It's ideal for engaging the core muscles while gaining a better sense of balance and confidence as the yogi tries to maintain their posture on the board among the waves. Be the tree that stands with confidence amidst a snowstorm.
Yoga for Men | The Broga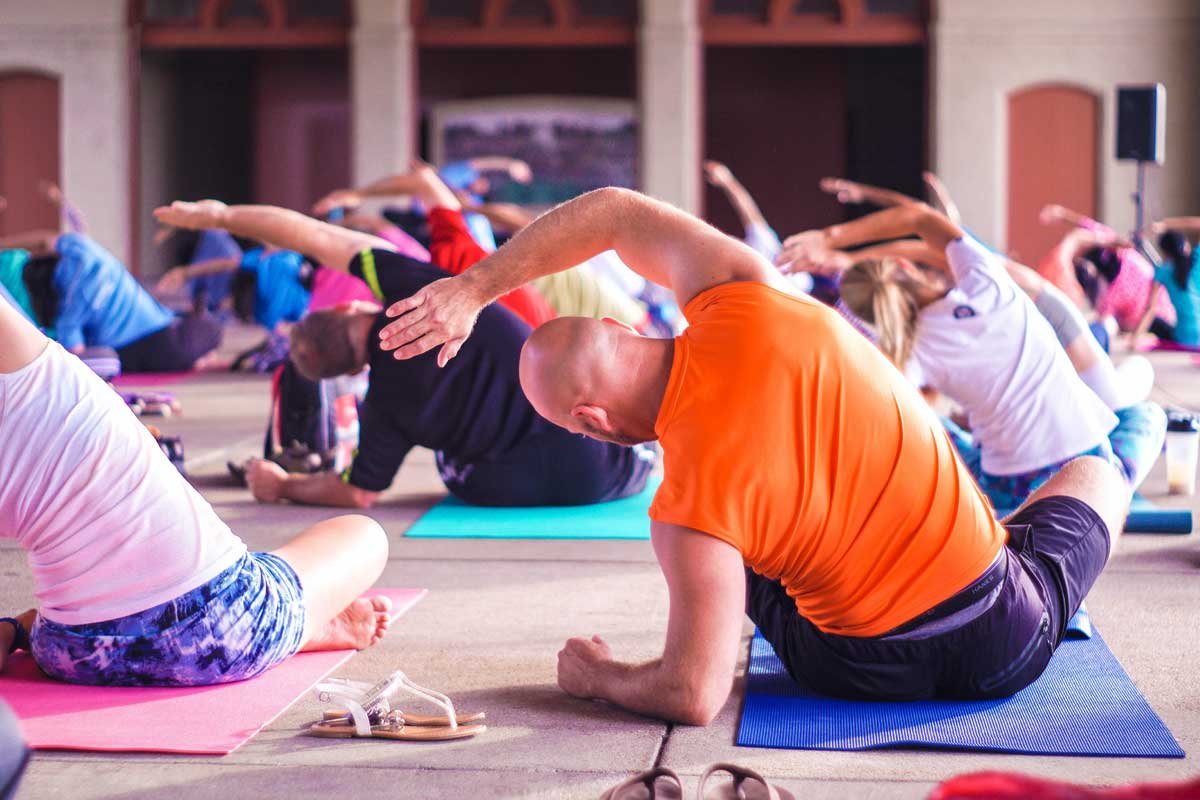 Bromances are 'the' thing of the day as we all love and rely on a confidante in our day-to-day life. When men combine it with yoga practices, it is perfect. Also called broga, this style has recently emerged as the misconception that yoga is for women, is gradually fading away and more and more men are leaning towards it for achieving overall fitness, busting stress, and reconnecting with their inner being. Broga is designed with the aim to fulfil the training needs of an athlete and a gym goer while offering the overall benefits of yoga as well. Hence, during a Broga session, men engage in HIIT training sessions while combining yoga asana practices.
Hatha Yoga for Mental Health
Many people have not been exposed to the true science of yoga, that yoga is for toning the body and gaining flexibility. What many people do not know is that yoga was developed with the purpose to offer holistic benefits in mental, physical, and spiritual disciplines. As time has progressed and aspiring yogis have been flocking towards the east for yogic immersions, they have discovered the true essence of yoga. This is rapidly highlighting the benefits of yoga for mental well-being. Hatha Yoga has always been the preferred choice of aspiring yogis who are serious about pursuing yogic studies.
Being the first style of yoga and also the parent of the rest of the yoga styles, Hatha Yoga is still the go-to yoga style for attaining physical as well as mental benefits. Start your day with the Hatha Yoga series or just meditate in corpse pose and notice all your stress melt away as you begin to dwell in the present.
Yoga Bites or Capsules
This is especially hot among the busy bees and the ones who do not want to be tied down by a single style or exercise routine. Yoga bites or yoga capsules come in the form of offline and online classes that the yogis can take from different yoga studios and schools. The yogis can take 5-20 minutes of yoga classes of each style before moving on to the next one. This is better for the yogis who know their way around yoga and have consulted what kind of yoga styles work for them and what combination of styles is ideal for them.
Hope these Top Yoga trends will help you start your yoga journey and get you healthier physically and mentally.