15 Cities in world that shares name with Indian cities
Page Visited: 3636
Read Time:
4 Minute, 0 Second
Hello, Guys, I found out that some cities around the world have a similar name to that of Indian Cities. It is strange to think about how these "desi" city names are also situated in countries like the USA. So I have listed out the cities.
Bali, Rajasthan/Bali, Indonesia
It is a small town of Pali district in Rajasthan. And Bali, Indonesia needs no introduction. It's a tourist destination for all those who love to lounge by the sea.
Baroda (Vadodara), Gujarat/ Baroda, United States
Baroda (Vadodara) in India holds the legacy of mouth-watering Navratra snacks. A man named Michael Houser built a village in the US, wanted it to be named Pomona, but realised that it was taken. C.H pindar who was born in India suggested Baroda for the name the village.
Bombay in India/ Bombay In USA
Bombay (Mumbai) is one of the largest city in India. But, there is a town called Bombay in the north-west area of Franklin County, New York, USA. There is also a beach named Bombay Beach in California, USA.
Calcutta (Kolkata), West Bengal/ Calcutta, Ohio, United States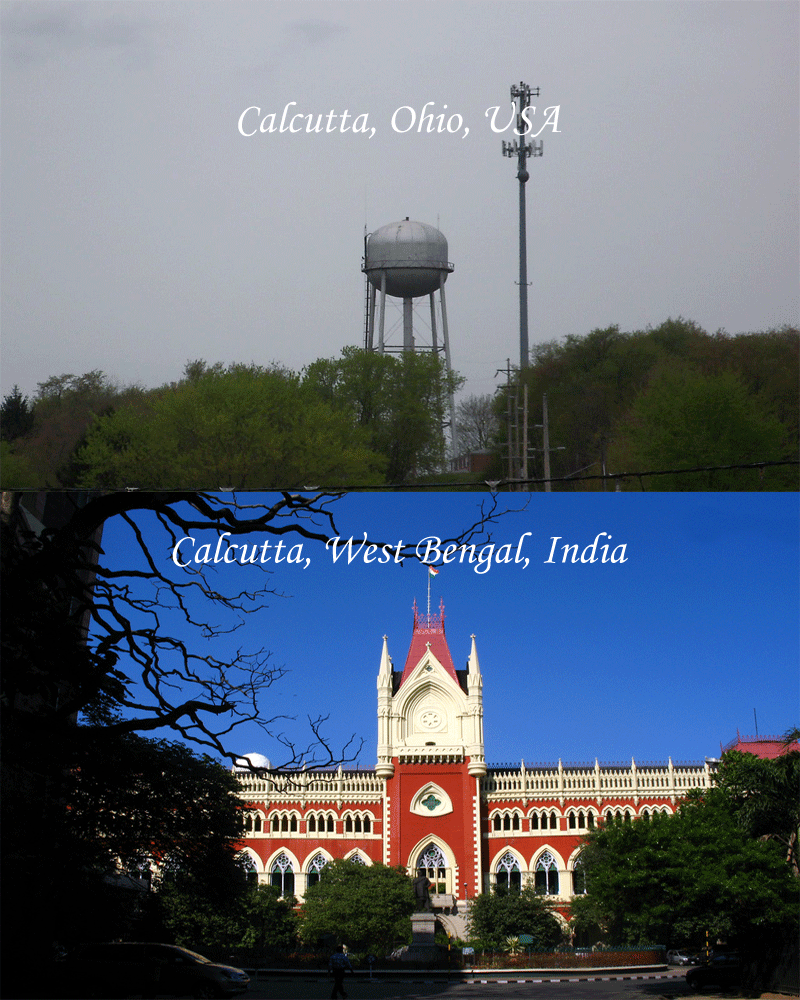 Calcutta, India, needs no introduction. There are 3 Calcutta in USA first one was in Indiana which was established in 1870 as a coal town and remains an unincorporated community till this day. Second is in West Virginia and the final one is in Ohio USA.
Delhi, India/ Delhi, United States
Delhi is our countries capital as we all know that. There is also a town Delhi in Louisiana in the United States. Speaking of Delhi's in other countries, there is also a Delhi in Ontario, Canada.
Dhaka, Bihar/ Dhaka, Bangladesh
Dhaka is the capital of Bangladesh, which was earlier east Pakistan. It has a painful history of the partition in various written works. The place with the same name in Bihar holds the importance of being a Vidhan Sabha constituency.
Faridkot, Punjab/ Faridkot, Pakistan
It is one of the 22 districts in the state of Punjab in India. The one in Pakistan is a small village which recently became infamous for being home to Ajmal Kasab, one of the terrorists caught for the Mumbai attacks.
Hyderabad, Andhra Pradesh/ Hyderabad, Pakistan
Hyderabad in India which was found by Muhammad Quli Shah in the honour of the Hyder Mahal. Whereas the Hyderabad in Pakistan was named after the prophet Mohammed SIL Haider Ali. Both the places have a royal past and a splendid fort!
Indore, Madhya Pradesh/ Indore, United States
It is well known for the 7-story Rajwada Palace and the Lal Baag Palace, which date back to Indore's 19th-century Holkar dynasty. Indore, West Virginia was inspired by the Hebrew word Endore which means spring and/or settlement.
Kochi (Cochin), Kerala/ Kochi, Japan
Kochi in India is the capital of Ernakulam. The one in Japan is quite a tourist attraction. What these two cities hold on common ground, other than their names, is their love for seafood.
Lucknow, Uttar Pradesh/ Lucknow, United States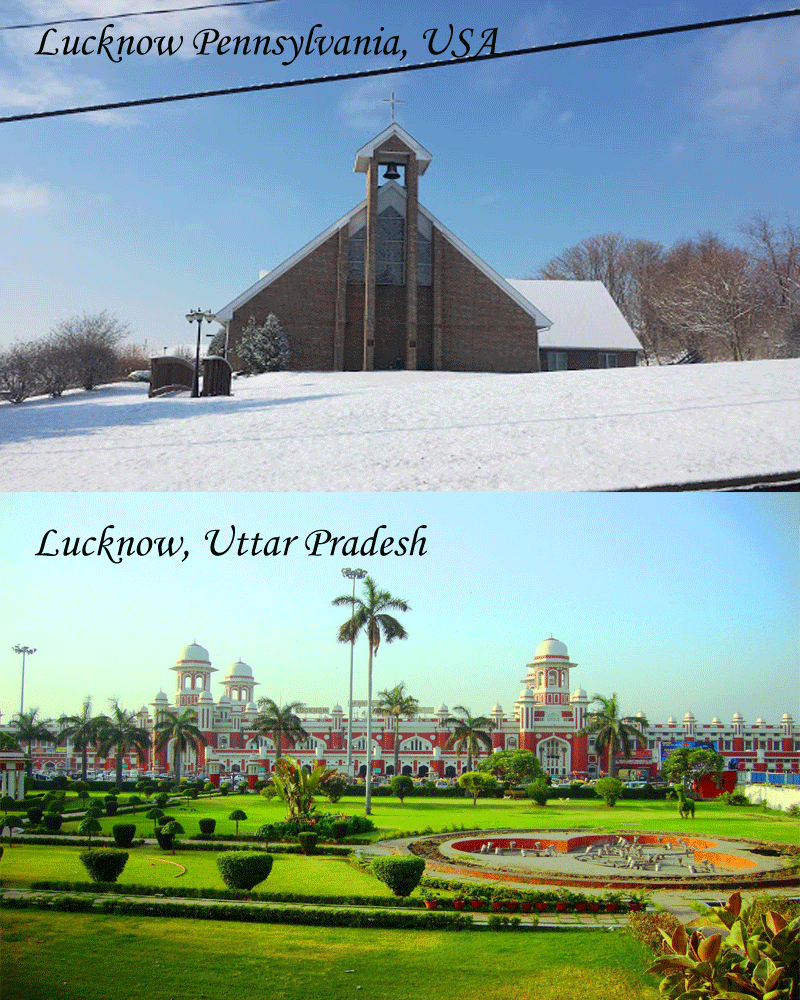 Lucknow in India is the capital of Uttar Pradesh. Nearby, the 18th-century Bara Imambara shrine has a huge arched hall. Lucknow or Castle in the Clouds, the United States is a sixteen-room and 5,500-acre mountain estate mansion.
Madras (Chennai), India/ Madras, USA
The City of Madras (Chennai) in India is the capital of TamilNadu. Fort St. George which was built-in 1644 is located in Chennai, and now it is a museum showcasing the city's roots as a British military garrison and East India Company trading outpost.
The City in Oregon USA was not always named "Madras", originally it was called "The Basin". Then it was finally renamed to "Madras" in 1903 after the cotton fabric called "Madras" which came from Madras, India.
Patna, Bihar/ Patna, Scotland
It is the capital of Bihar and the 19th largest city in India. Patna located in East Ayrshire, Scotland was named by William Fullarton whose father was an employee of the East India Company and was fond of Patna City. Patna is Scotland is inspired by Patna City in Bihar.
Salem, Tamil Nadu/ Salem, United States
City of Salem in India is mentioned in the inscriptions of 1st and 2nd Century, which makes it much older than Salem in the US. On the other hand, the Salem in the US is named after the Hebrew word meaning peace.
Thane, Maharashtra/ Thane, Australia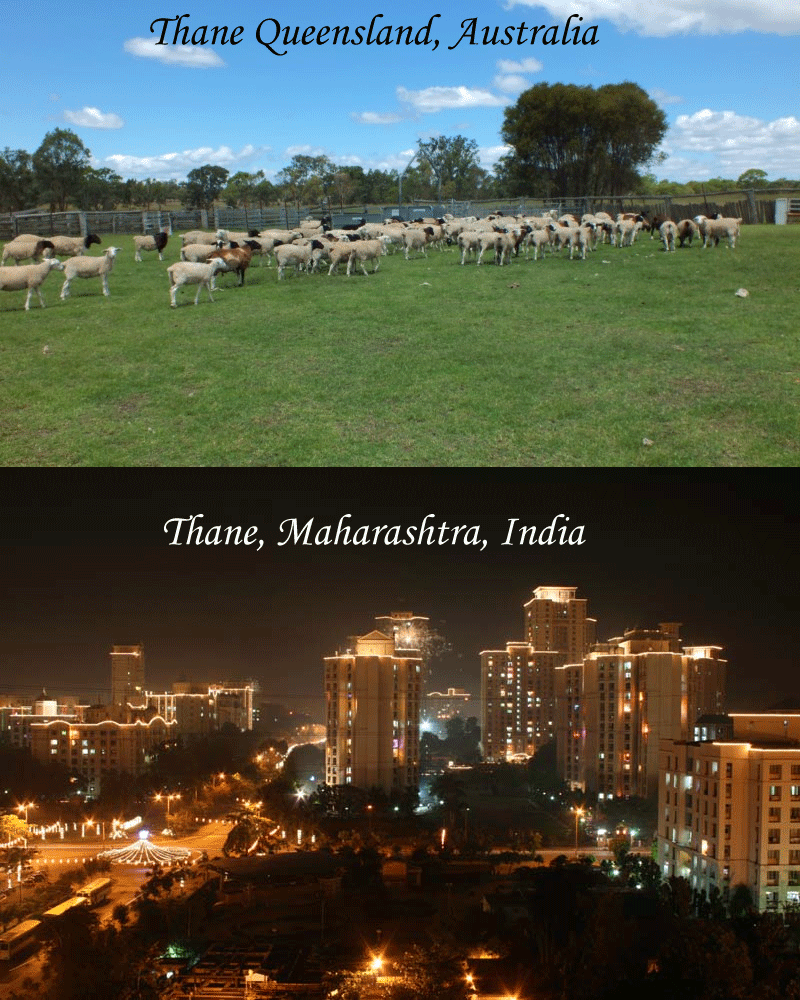 Thane in India has the most beautiful beach scenes you could imagine. The one in Australia is a city away from the big cities and how it got the name remains unknown. The most striking resemblance between both these places is they have a creek!
I was surprised after hearing some of the city's names, though I have heard some of them before.